It's not just about the abandoned cart email anymore.
Visitor abandonment. It isn't a new topic and for anyone who runs an eCommerce site, it's something you see every single day. When more than 65% of site visitors abandon their online shopping carts and even more leaving the site after simply browsing, it's a serious problem when it comes to increasing conversions.
When you look at the sales funnel for an eCommerce website, it is easy to see that most visitors (around 20-30%) are simply that — someone who may be doing some quick browsing, but then leaves the site. There are those few, around 5%, who do actually add products to their cart, but the number of visitors who actually complete a purchase drops to only 1% of site visitors.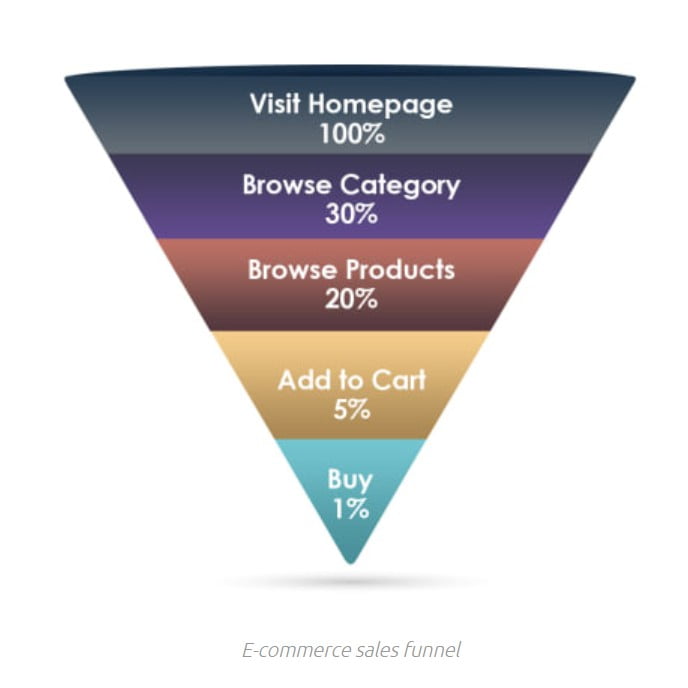 It's easy to see where people are falling out of your sales funnel when looking at it in this light. With a big drop from browsing products to add cart, this is an area of opportunity to remarket to your site visitors. But don't forget the visitors who have added items to their cart but haven't checked out — they are already showing interest in your products. Image courtesy of SEMrush.
The good news is you do have options when it comes to improving site conversions. By using the data you have on your site visitors, you can send personalized and targeted reminder emails to bring visitors back to your site to hopefully complete a transaction. That's where abandonment emails come in.
Here's what we'll dive into in this article:
What abandoned cart emails are and how you can use them to improve your conversion rates
What browse abandoned emails can bring visitors back to your site and help you move customers through your sales funnel
Best practices and examples of both types of emails
Abandoned Cart Emails
Abandoned cart emails are designed to bring the customers who are in the 5% of site visitors who put items into their shopping cart but did not complete the checkout process. These are visitors who are much more likely to complete a purchase and have already decided there is an item they are interested in.
That's why this is a great place to start with your abandonment emails. This is the low hanging fruit if you will. There are a number of reasons why a visitor may have decided to abandon their cart. Maybe they were simply browsing and saving something as a reminder, or maybe they found that there were unexpected costs during the checkout process.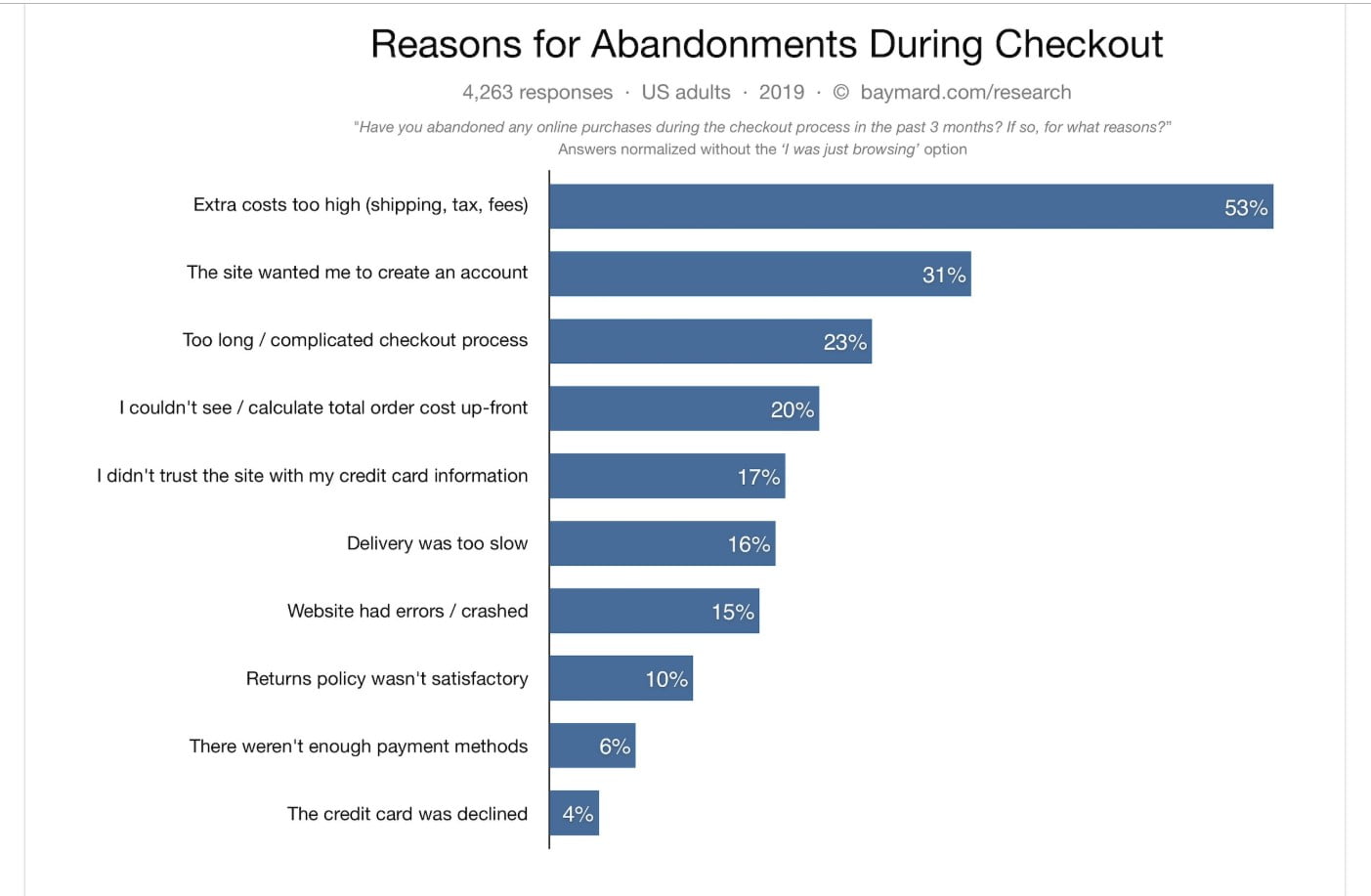 There's not just one reason for cart abandonment. It could be a number of different reasons, but having an idea of why visitors may not complete their purchase can help you improve your abandonment email strategy. Image courtesy of Baymard.
Luckily, abandoned cart emails can bring users back to your site and remind them of the products they left behind. Let's take a look at a few best practices and examples of abandoned cart emails.
Abandoned Cart Email Best Practices
There are a few best practices you'll want to follow when you're developing your abandoned cart emails. You don't want to send emails that are too pushy, or sound like you've been stalking their shopping activity — but you also don't want them to forget about the items.
First and foremost is the number of emails you should send and the timing these should be sent. You're going to want to develop a three email campaign around the abandoned cart. In this email campaign here are the different emails you'll want to send:
Email 1: This email should be sent within a few hours of the abandoned cart. It can be a friendly reminder that the visitor left something in their cart.
Email 2: Send this email within the first 24 hours to increase conversion rates. This email again should not be pushy, but remind the shopper about the items they were going to checkout. Maybe you add a coupon or discount code at this point to make the offer sound a little more appealing.
Email 3: This will be your final email and should be sent within one week of the abandoned cart. In this email, you can start to put a little more urgency into the purchase. You can let them know the deal may be ending soon, or that inventory levels are low. This is another great opportunity to provide a discount or coupon code.
For best results, this email cadence should be the foundation of your abandoned cart email strategy. Keeping in mind that as you run these types of campaigns, you can adjust timing and messaging based on what your customer base responds best to.
In general, A/B testing is another best practice for abandoned cart emails. Email subject lines are the first thing users will see when they receive the email and will be a deciding factor when it comes to opening or deleting the email. Test different subject lines to learn what works best and what your customers respond to.
Lastly, make sure that you remind people what they left behind and offer a clear call to action. If you don't remind the user of the item they left in their cart, the email will simply be a marketing email and won't lead them back to their abandoned cart.
Finally, you need to make sure they know the action you want them to take from there. Having the call to action tell the user what the next step is and how they can do it will help improve conversion rates.
Here are a few examples of abandoned cart emails.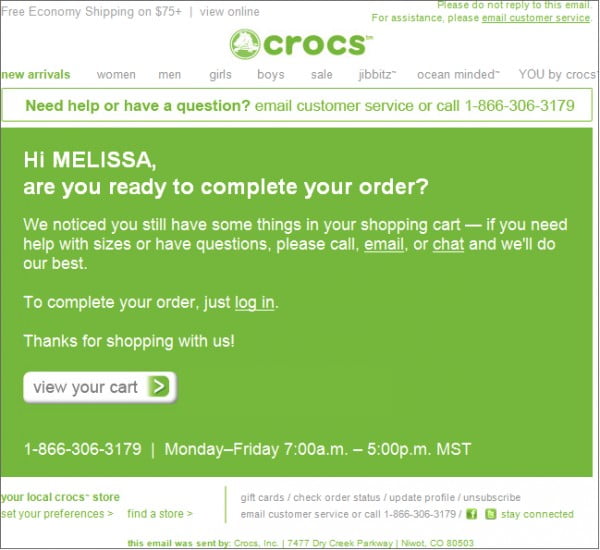 Crocs use an abandoned cart email to encourage users to complete their purchase. This email lets the user know they have something in their shopping cart and provides contact information in case they have any questions or need assistance. Image courtesy of Marketing Land.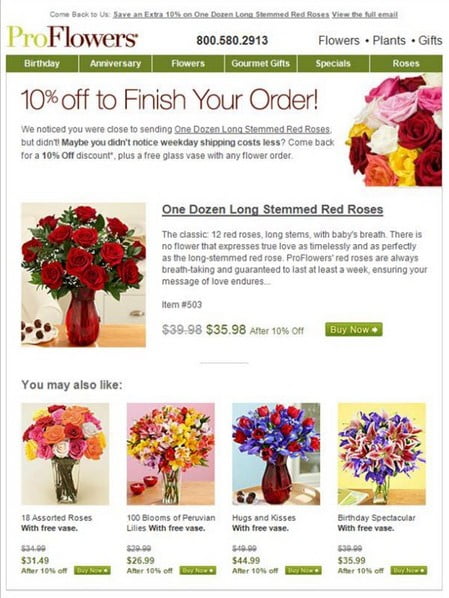 ProFlowers utilizes abandoned cart emails to bring users back to their site and complete the purchase. In this example, they are offering a discount for the visitor to come back and finalize their order — hoping the discount will be enough to seal the deal. Image courtesy of Moz.
Browse Abandonment Emails
The second type of abandonment email you use to remarket to your visitors are browsing abandonment emails. Browse abandonment emails are targeted to the 20-30% of site visitors who don't make it past the browsing stage.
These types of emails can be a little trickier than the abandoned cart emails. One reason is that they are further up in the sales funnel, so they most likely have not committed to making a purchase yet. The second reason is that you need more data and have to have the ability to track browsing habits.
If you have all the tools needed for this, you'll have a great opportunity to reach a larger number of potential customers and increase sales. By implementing a browse abandonment strategy in addition to your cart abandonment emails, you can boost total email revenue by 8%.


Browse abandonment emails can bring you increased email revenue that would otherwise be lost. In the remarketing revenue spectrum, browse abandonment emails can help bring in 36% of revenue. Image courtesy of Listrak.
Browse Abandonment Email Best Practices
Browse abandonment emails are all about sending the right message at the right time. You need to know when you trigger an email to bring someone back to their previous browsing session. There can be a fine line between too much communication and a coming off a little stalkerish and having a successful browse abandonment email campaign.
Here's what you'll want to consider when planning out the timing of sending these emails:
If it is a visitor's first time on your site and they have just become a subscriber, wait to send them reminder emails about their browsing behavior. They may be more likely to respond to a welcome campaign instead.
The more you know about the user's behavior, the more you can personalize the content to their interests. Take the time to learn more about them rather than just sending a one-off email right away.
But once you are ready to start sending these emails to a user, send them within 24 hours of their visit. Your brand and the products may still be on their minds, but they have most likely forgotten about you three days from now.
Since they are still at an early stage in the sales funnel, you may need to include multiple emails in this series. You can add a sense of urgency to entice the visitors to look at the items browsed again.
If someone visits your site multiple times to look at the same item, only send the abandonment email one time. They do not want to receive the same email five times just because they were taking another look at the items.
Unlike the abandoned cart emails, there is no three-step plan for bringing users back to your site. It's all about getting to know what they want to see and what items may pique their interest enough to bring them back.
Do include additional product recommendations based on the users browsing historyl. Share complementary products and any other items that may fit the visitor's interests. This is a great opportunity to share top rated products or glowing reviews you've received on the items the user was looking at.
Here are a few examples of browse abandonment emails.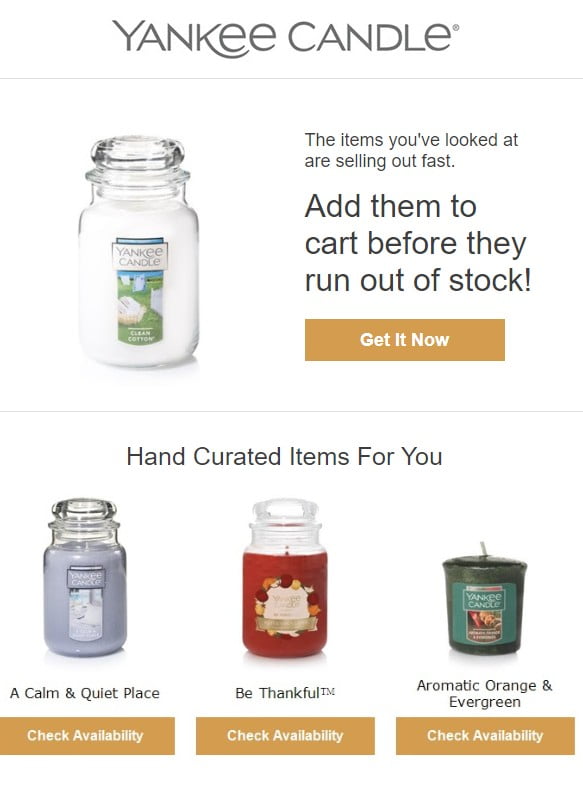 In this email from Yankee Candle, they are using the tactic of adding a little urgency to the purchase. By showing some of the items that the user viewed, they are hoping to get them back to the site to purchase a few new candles for the holiday. Image courtesy of Yankee Candle Marketing.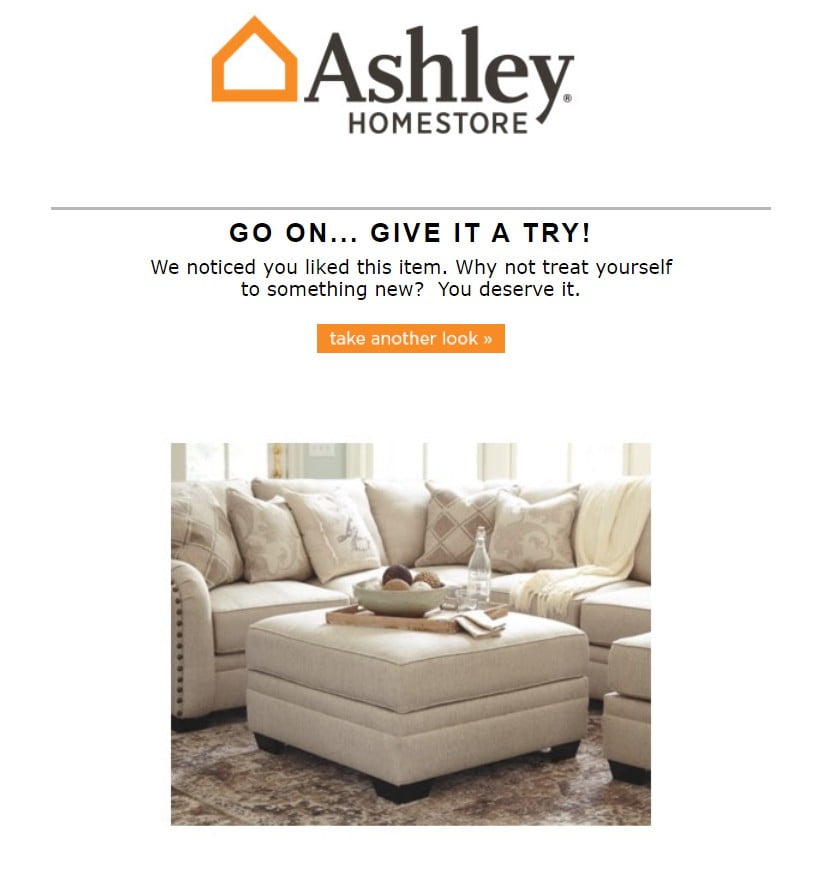 In this email, Ashley Homestore is reminding the visitor of the item they were looking at. This is a great example of using a strong and clear call to action to get the user to take the next steps you want them to. The take another look call to action stands out and reminds the user they were looking at this item previously. Image courtesy of Ashley Homestore Marketing.
Use Customer Abandonment to Your Advantage
Although customer abandonment is our least favorite thing to think about, it's something that we can flip the script and use to our advantage. It offers an opportunity to keep in contact with our customers and bring users back to a previous shopping experience they didn't complete.
With an abandonment email campaign, you have the opportunity to increase sales and give users what they want before they even know it. In the end, the more you know about your site visitors, the more likely you can help move them through the sales funnel and start building a more loyal customer base.