Bloatware is a serious Android Problem and removing it is even harder. Unfortunately there is not one specific Bloatware remover you can use to remove android bloatware, but combining apps and different methods should get the job done.
What is bloatware? Bloatware is considered any pre-installed app for which you haven't given any permission to be installed on your device that you don't use and takes up disk space. These are usually apps from carriers like Vodafone, AT&T, Verizon etc. or manufacturers like Samsung with Touchwiz.
Is removing Bloatware dangerous? Could i harm my device? If done properly, removing bloatware is completely safe. If you follow the guide bellow you should have no issue to safely remove android bloatware.
What methods are there? What is the best Bloatware remover? There are 2 main methods, manually or using an app like NoBloat or Debloater. Manually consist in manually disabling or uninstalling all bloatware apps, this process can take some time but will safe you money.
Does this work on any android version? Yes, the methods bellow work for Android 4.0, Android 4.1, Android 4.4 KitKat, Android 5.0 Lollipop and Android 5.1 Lollipop
Best Bloatware Remover for Android – How to remove Android Bloatware
Most of these apps in order to do their required thing you need to root your device. The rooting process for a device varies with each manufacturer and model, you can check out some of the guides bellow written by us on popular devices:
Once your device is rooted, we can choose the Bloatware Remover app we are going to use to remove Android bloatware. You can find many different apps by searching for keywords like "Bloatware remover", "system app remover" or  "remove system app". In this case we are going to use NoBloat
How to install NoBloat for Android 
Head over to the Play Store and search for "NoBloat"
Or go directly to the download page here
Click on "Install"
Read the permissions listing
If the permissions listing is acceptable, tap Accept and let the app install
Once installed, open up the app and this menu (or one looking similar) should appear: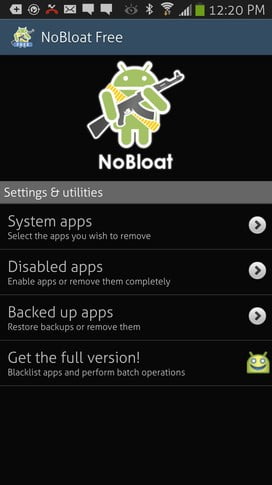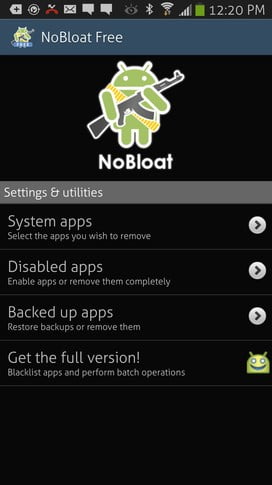 Depending on what you wish to do, you can either select "System Apps" or "Disabled Apps". We highly recommend you disable apps instead of removing them. Tap on the "Disabled Apps" and select all bloatware apps, bellow is a list of common bloatware apps that you can remove without harming your device:
-AllShare ControlShare Service
-AllShare FileShare Service
-Amazon
-Amazon App Suite
-Amazon Kindle
-Amazon mp3
-Android Live Wallpapers
-Ant Radio Service
-Ant+ Plugins
-Audible
-Backup Assistant Plus
-Black Hole
-BlurbCheckout
-Briefing
-Bubbles
-Calculator
-Calendar
-Caller Name ID
-Circles
-Cloud
-Cloud print
-com.samsung.android.sdk.spenv10
-com.sec.android.app.FlashBarService
-com.sec.android.sviewcover
-com.sec.msc.nts.android.proxy
-Deep Sea
-DigitalPenSDK
-DioDictService
-DirectConnectManager
-Drive
-Dual Clock
-Email
-Enterprise Sim Pin Service
-Enterprise SysScope Service
-Enterprise VPN Services
-EnterprisePermissions
-EpsonPrintService
-Face Unlock
-Google Now Launcher
-Google Play Books
-Google Play Games
-Google Play Movies & TV
-Google Play Newstand
-Google Search
-Google TTS
-Google+
-GroupPplay
-Hangouts
-HealthService
-Help
-Homescreen Tips
-HP Print Service Plugin
-IMDB
-InteractiveKeyboardTutorial
-Isis Mobile Wallet
-KNOX
-KNOX notification manager
-KNOX store
-KLMS Agent
-Live Wallpaper Picker
-Magic Smoke Wallpapers
-Manage accessibility
-Maps
-mc3
-Memo
-Messaging
-Mobile Print
-mobileprintsvs_cups
-mobileprintsvs_cups_backend
-Movie Studio
-Music Visualization Wallpapers
-My Verizon Mobile
-Nearby Service
-NFC Service
-NFC Test
-NFL Mobile
-Phase Beam
-Photo Editor
-Photo Screensavers
-PickupTutorial
-Polaris Office 5
-Print Spooler***
-Quick Office
-RealRacing2
-S Health
-S Memo
-S Note Provider
-S Translator
-S Voice
-Samsung Account
-Samsung Billing
-Samsung Books
-Samsung Calendar SyncAdapter
-Samsung Cloud Data Relay
-Samsung Cloud Quota
-Samsung Content Agent
-Samsung Games
-Samsung Knox
-Samsung Learning
-Samsung Link
-Samsung Memory SyncAdapter
-Samsung Print Service
-Samsung Print Service Plugin
-Samsung Push Service
-Samsung SBrowser SyncAdapter
-Samsung Snote Syncadapters
-Samsung TTS
-Samsung Updates
-Samsung Video
-Samsung WatchOn
-Security Policy Updates
-Setup 4.4.2-10
-Setup Wizard 4.4.2
-Setup Wizard 1.0
-Setup Wizard 1.3
-Share music
-ShareShotService
-Share video
-Slacker Radio
-SmartActions
-SmartActions Android Framework
-SmartActions Proprietary Framework
-Story Album
-Story Album Widget
-SyncMLSvc
-Talkback
-TouchWiz easy home
-Translate
-Travel
-Travel Wallpaper
-Trip Advisor
-Try air move
-Verizon Location Agent
-Verizon Login
-Verizon Remote Diagnostics
-Verizon Support & Protection
-Verizon Tones
-Video Player
-Virtual Tour Viewer
-VMware Ready
-Voice recorder
-Voicemail
-VPN Client
-VZ Navigator
-Weather
-WFDS Print Service Plugin
-Wi-Fi Direct
-Wi-Fi Direct Share
-Yahoo! Finance
-Youtube
-Zappos
Hello, my name is Niels Bosch
and i am the founder of AmongTech. Currently living in the South of Spain. My main interests are web development, playing video games once in a while, Apple, Marketing and SEO. I am currently studying Business administration, Networking & Security and Database management and will be doing so for the next year.