T-Mobile could start accepting Bitcoin soon
So it looks like T-Mobile could start accepting Bitcoin soon as a form of payment, making them the first major phone carrier to do so. When Reddit user Ryan Kinder emailed T-Mobile's CEO John Legere asking whether they were considering ever accepting Bitcoin as a form of payment for stuff like phone purchases and paying off phone bills. So it was quite a surprise when Legere actually replied simply saying "Under review" which most likely means that T-Mobile are considering the use of Bitcoins and are just fleshing out the whole idea of it.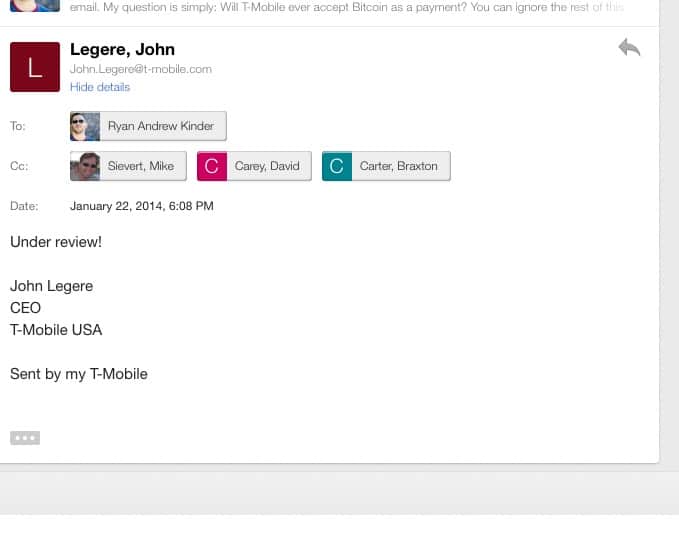 As Kinder says, he broke his phone a couple months back and he needed $175 to pay for a new one, which he didn't have. But the value of his Bitcoins was that much and he would have been able to easily pay for it if they accepted Bitcoins. The best thing about this is that fact that Kinder also noticed that Legere had actually CC'd the email to other people in his staff, including the companies CFO Braxton Carter, the CMO Mike Sievert and the Executive Vice President of T-Mobile David Carey. This means they're all aware of the importance of Bitcoins and now they're thinking about implementing them into the company.
See also: Google Wallet could get Bitcoin support soon
And over the past few months we've seen an increase in the number of places that are accepting Bitcoin as a payment method, allowing people to use their valuable coins on more and more items. Just today the popular ecommerce site TigerDirect now accepts Bitcoin as payment, as does the Glasgow subway in Scotland, allowing people to use purchase their train tickets with the coin. If T-Mobile do start accepting Bitcoin as a form of payment this could encourage other mobile carriers such as Apple or Samsung to make the move as well, considering the rise of Bitcoin and how important its becoming in the shopping world. The way Ryan approached the CEO of T-Mobile is similar to how Jason Bored approached Vic Gundotra ( Senior Vice President, Social for Google) to ask if Google Wallet would get support for Bitcoins
---
I'm a tall human being who enjoys video games, technological things and making videos for YouTube. I live in London, I'm currently a partner with TGN on YouTube and I've also started as an editor for AmongTech
Read More
Tags: