We know for a couple of weeks now that Google is working on a new Android version, Android 4.4.3. All though the update will mainly contain bug fixes and some minor UI changes (as far as we are currently aware of). It will also fix the annoying Nexus 5 camera battery drain issue in which if the camera app on the Nexus 5 is used it would cause an increases in the CPU usage which then drastically affects the battery life of the device.
Update: Google has now officially released 4.4.3 (more info)
Nexus Devices
Of course, there is no doubt Google's own Nexus devices will be getting Android 4.4.3, in fact they will be the first ones. multiple sources have confirmed that the update will start to roll out late May and will become available for Google Play Edition smartphones early June. List of Nexus devices that will get support:
Nexus 5
Nexus 4
Nexus 7
Nexus 10
Google Play Devices (early June)
Sony Devices
Previously images were leaked of the Sony Xperia Z Ultra running on Android 4.4.3, which was spotted on a  Bluetooth SIG listing sheet shown bellow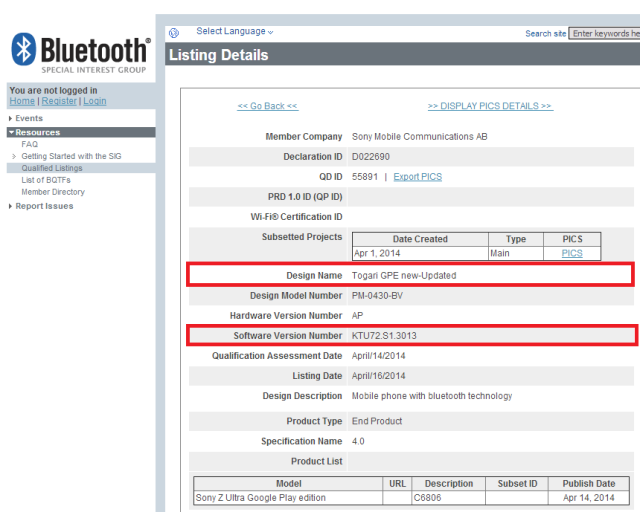 Sony devices that will get support for Android Kit Kat 4.4.3 are the following (according to the rumors and leaked information):
Xperia Z Ultra, the Google Play edition
Xperia Z2, the Google Play edition
Xperia Z2 (Tablet)
Xperia Z2
Samsung Devices
Just like Sony, the Galaxy S5 has also been spotted running 4.4.3 and it has also been rumored for some time that the S5 predecessor the S4 will be getting 4.4.3. However, according to AndroidPit both the S3 and Samsung Galaxy tabs don't qualify for the update. Samsung Devices that will get android kit kat 4.4.3:
 HTC Devices
HTC isn't the best at keeping secrets and it hasn't been able to stop any information from leaking regarding 4.4.3 either as a details spreadsheet confirmed which upcoming HTC devices would get the new android version, as seen bellow:
HTC devices that will get support for 4.4.3:
What about the rest?
It is true that we are still missing several companies like LG and Motorola. As of now no information has been leaked about these devices and it is yet unknown if they will get the update. It does look like LG will most likely skip this version.
What changes will 4.4.3 bring to Android?
The Android 4.4.3 update mainly brings bug fixes but there are also several improvements to the UI as the dialer app gets a new design, the Nexus 5 camera bug is addressed and more. For a full list of changes coming to 4.4.3, check out our post