Today at the Mobile World Congress in Barcelona, Silent Circle and Geeksphone has announced the Blackphone, the worlds first smartphone which places privacy and control directly in the hands of its users. Blackphone is now available for pre-orders to users and businesses as an unlocked device with a starting price of $629 (£380 or €460) and will be available through selected carriers from launch. One of the carriers already confirmed is a Dutch carrier KPN Mobile, which will serve as the launch carrier and will cover European regions including Belgium, the Netherlands and Germany.
"We wanted to deliver not just the best privacy, but the best total package. Blackphone offers unprecedented value in a turnkey secure communications platform, and it's easy enough to use that anyone who's used a smartphone before will feel right at home as soon as they turn it on." said Toby Weir-Jones, SGP Technologies' Managing Director.
The Blackphone includes a unique combination of operating system and application tools which offers unparalleled security and privacy to workers, executives, public figures and anyone looking to have ownership over their privacy, it runs its own operating system called PrivatOS which is build on Android and combined with a full range of privacy enabling apps which will allow its users to regain control over their device.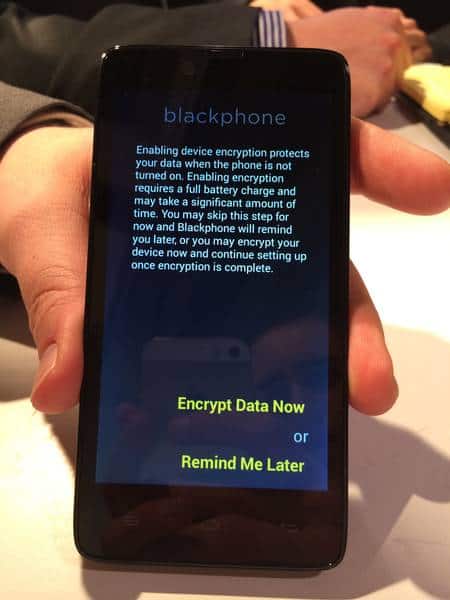 At MWC 2014 AmongTech got an exclusive look at the Blackphone and we got to play around with it. It is very interesting to see the way they integrated many of the apps like Silent Phone app, Silent Text app, Silent Contacts, anonymous search, private browsing, and VPN. Most of these services are free to use for the first 2 years but an additional fee will be charged after that time. (as seen in the image above) This is one of the windows that you usually don't get when setting up your smartphone, the phone asks if you want to encrypt all the data on your phone. Another very well integrated feature is when downloading new apps, whenever you download an app a popup will appear that will ask you to configure all of the privacy settings and data that that specific app is allowed to access. The following are the specs for the handset:
2GHz quad core processor

4.7 inch HD Screen
LTE
2GB DDR3 RAM
16GB Storage
8MP Primary camera and a 1.3MP front camera
Bluetooth 4.0
The device is certainly a very interesting idea, but I'm a little skeptical that there just aren't enough people who are willing to hand over $629 for a piece of hardware and then be committed to a $120 a year plan for something thats aimed at such a niche market, and even Silent Circle are aiming at 10 million sales a year for the first three year, which again seems a lot considering the market for it. And while the Blackphone is the first security and privacy focused smartphone, I don't expect this to be the only one for long. I wouldn't be surprised to see some of the bigger players, perhaps Samsung have a go.