The days of tediously searching page-by-page through auction catalogs are thankfully behind us, with the digitalization of the auction market providing all consumers with access to the world of art, antiques and collectibles.
Although browsing what auctions have to offer has been facilitated hugely by the internet, the market still remains tricky to navigate. Many auction houses have chosen to maintain the traditional structure of their business rather than adapting with the digital age.
In 2011, we recognized the issues facing consumers, and thus the idea for Barnebys was conceived.
As the leading aggregator for an art and antiques search tool within an ever-fragmented market, Barnebys brings together dealers and auction houses, collating over half a million objects from around 1,800 sellers across the globe.
Buying
Barnebys is the dealer and the buyer's best friend, easing the process of selling and buying for both parties. Browsing our vast selection of items is made easy and effortless with our advanced search settings, enabling you to create a personalized and efficient search, specifying details from the price of the item to the location – you can even select the particular auction house.
We understand that not everyone has time to search for that special something, so we've created search alerts to do the hard work for you. Once you've created a customized search, you can set up notifications which will let you know via email that what you're looking for is available on our site.
When you've found that vintage Rolex or Keith Haring piece you've been looking for, you can add it to your favorites so that you don't miss when the auction ends.
Need some inspiration or want to keep up-to-date with the art and auction market? Check out our blogs from our team of in-house writers for all the latest news and opinions.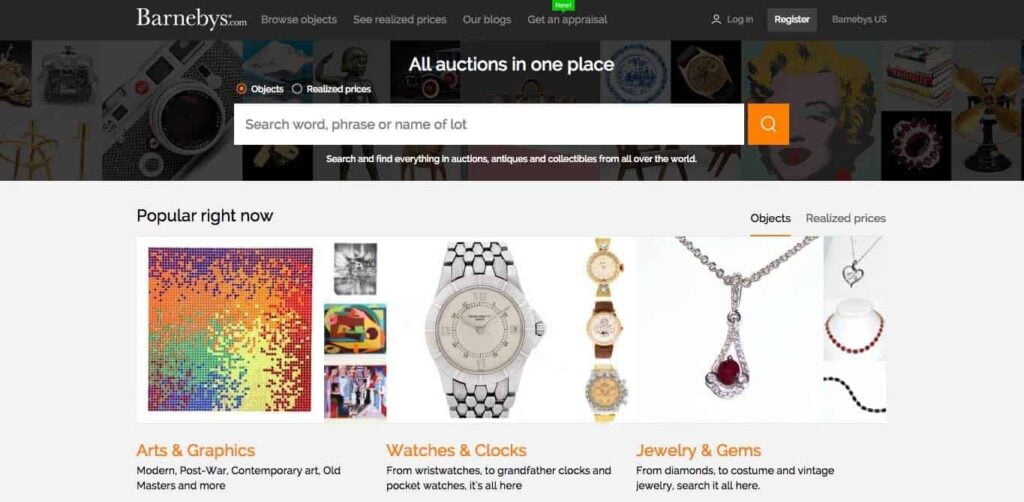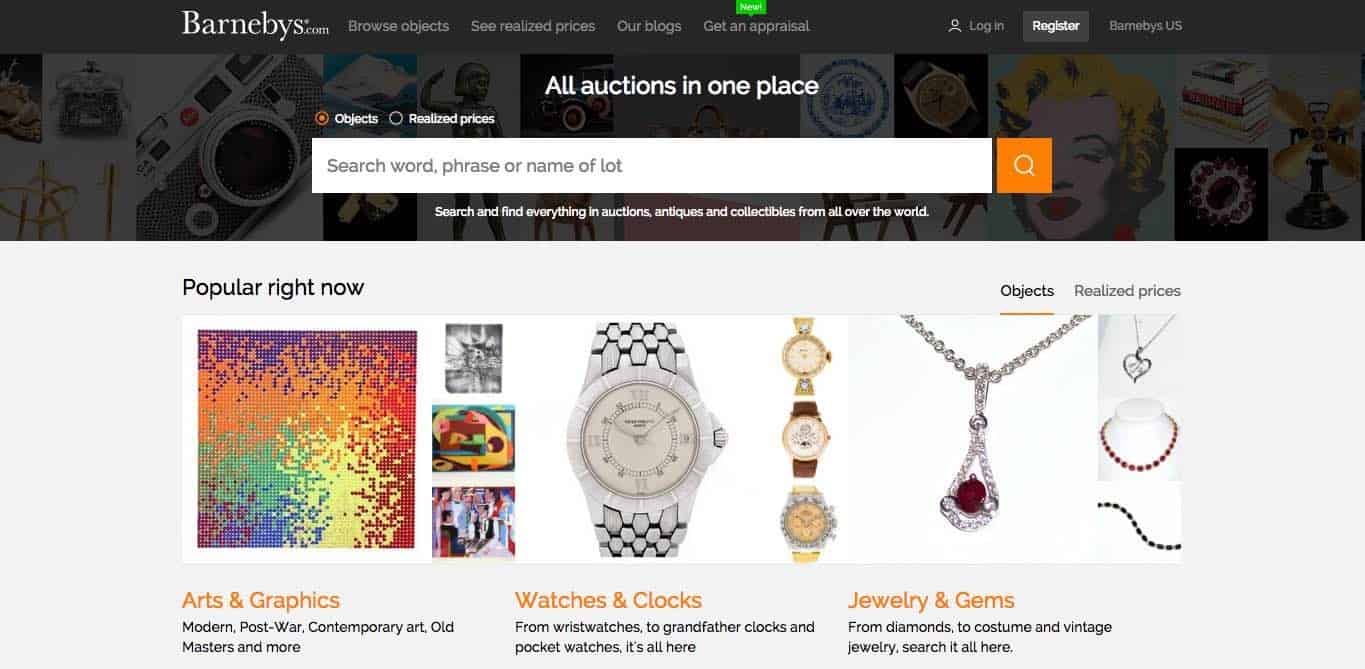 Selling
If you're planning to sell an item, we can connect you with the country's foremost antiques experts. We also have the largest free price bank, allowing you to compare your items with realized prices from past auctions.
Our clients have full control over their data and relationship with buyers – we're no middleman. Our clients don't lose their data which is often the case with second-hand sale platforms. The automated scraping of objects from the dealers and auction houses makes the process of selling streamlined for our clients.
For us, the fundamental aspect of this industry is the fact that the objects for sale are unique, meaning the supply is limited. This makes scaling an auction business incredibly difficult, as antiques aren't able to be produced in the same way other consumer goods are. The industry will continue to be fragmented one.
Allowing third-party platforms for dealers and auction houses carries great risk. In doing so, auction houses sacrifice their relationship with the end-user, as well as their inventory, SEO-power and brand recognition. Auction houses are regaining their independence by using technology to conduct their own online sales. Following this trend, we will be launching a tech-solution to ease this process and provide auction houses with the traffic and branding they need in order to ensure the market sustains.
Barnebys has the potential to be a key part of the stream of supply and demand through our appraisal service and search engine combined, without ever handling the physical objects, as again our clients handle all relationships with their buyers and consigners.
We are an innovative and vital component in transforming a previously inaccessible market into a potential mass-market. Whatever your needs whilst navigating the art and auction world, we here at Barnebys have the tools and expertise to help.
Barnebys is the largest search service for art, antiques and collectables, with around half a million unique items from over 1,800 auction houses and dealers around the world.