While Google is busy rolling out Android 5.0 on its Nexus line up of devices we already have the first details on Google's upcoming Android 5.1 as two Android developers leaked the very first signs of life during the Devoxx conference taking place in Antwerpen, Belgium
During their presentation, Romain Guy an Android Software Engineer and Chet Haase a Senior software engineer at Google were using a Nexus 5 running Android Lollipop MR1 which stands for maintenance release 1, taking a look at Google's history with "Maintance Release" versions, this could be the very first signs of Android 5.1
Android 5.0 MR1 will it become Android 5.1?
According to AndroidWorld it is very possible that we are looking at an early version of what will eventually become Android Lollipop 5.1 as Android 2.0 MR1 eventually became Android 2.1 Honeycomb, Android 3.0 MR1 eventually became Android 3.1, Android 4.0 MR1 Jelly Bean eventually became Android 4.1, Android 4.3 MR1 eventually became Android Kit Kat. Here is a screenshot of what was shown on screen at Devoxx: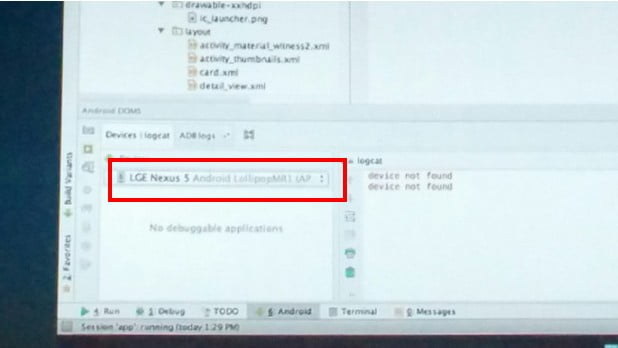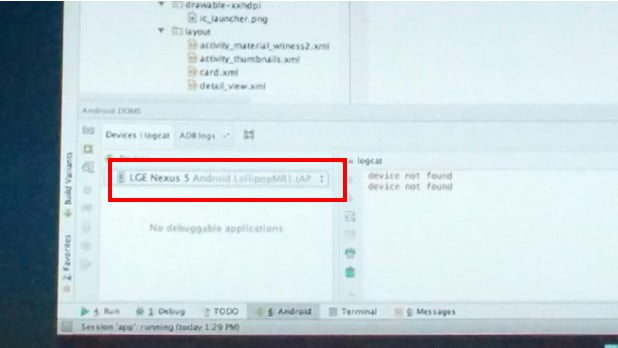 What does this mean for Android 5.0? What else do we know about 5.1?
This leaked screenshot says very little about the new Android version but it does show that most likely 5.1 will remain the "Lollipop" version name and won't be a huge change which comes as no surprise keeping in mind the huge changes made in Lollipop.