The HTC One M9 was already a disappointment for many and now both software and hardware issues are making the HTC One M9 drop even further on the must-have list of 2015 devices. A test done by Dutch website Tweakers shows that the HTC One M9 is experiencing some serious overheating issues when exposed to high loads.
Using GFXBench, the device managed to reach temperatures exceeding 55 Celsius (131 Fahrenheit). This is quiet high keeping in mind that the average high-end Smartphone temperature is between the 30 and 40 Celcius.
HTC One M9 Overheating Issues – The Test and Results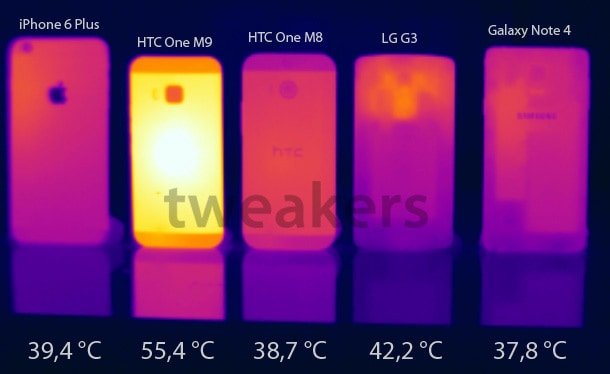 The test was performed using the GFXBench which performs a stress test on the device higher than what the usual 3D mobile game requires from it (in this case, the game used to test was Assassin's Creed: Pirates). Still, then the device stays at 42 Celsius while devices like the iPhone 6 and Galaxy Note 4 stay at around 35 Celsius. Don't forget to check out our HTC One M9 vs Galaxy S6 Edge
HTC One M9 Overheating – Cause and Solution
While HTC hasn't given any official response it is no secret that the issue lies with the new Snapdragon 10 CPU. Previous reports from Business Korea already claimed that the high end Quad-core 1.5 GHz Cortex-A53 & Quad-core 2 GHz Cortex-A57 was having some serious overheating issues.
"Qualcomm is faced with hard-to-solve problems. The Snapdragon 810 overheats when it reaches a specific voltage. It also slows down owing to problems with the RAM controller connected to the AP. In addition, there is an error in the driver of the Adreno 430 GPU,"