We are going to take an in-depth look on how to perform a factory reset Android M, Wipe its Cache and the things we recommend you do before we completely wipe all data from your device like how to perform a proper Android M Backup and how to restore all of your data.
Performing a Factory Reset is very easy to do and requires no in-depth knowledge of Android, it is important to know that a factory reset will completely wipe your device this means it will remove all of your data from your device and bring it back to its original state how it was the first time you turned it on.
How to Perform a Backup Android M
Before we factory reset Android M we are going to take a look at how to perform a system backup and how to backup all of the apps and personal information stored on your device. We are going to start with the pictures:
How to backup pictures on Android M
The best method to do this is by using Google's own Google Photo service. The service which was announced at the same event as Android M allows you to upload unlimited photos to the cloud for free. You can export them easily to store them on your computer and you will never have to worry about running out of storage or losing your pictures. You can check out Google Photos for Android M on the Play Store
How to backup apps on Android M
All though Android M features an automatic app backup system, its file size limit is 25MB which isn't enough for most apps. Instead, you can use apps like Helium to backup all of your App date to the cloud and easily restore it on your new device. You can check out Helium on the Play Store (Helium does NOT require root)
How to Factory Reset Android M
After backing up all of your data we can continue to perform a factory reset. Remember that a factory reset will wipe all data from your device and return it to its original state when your first bought it. Before starting, we will take a look at some reasons why performing a Factory reset might be a good idea:
Increase device speed
Make a Fresh new start
Great way to remove any malware
Great for fixing system issues and problems
If you are going to stop using your device, sell it or give it to a family member or friend.
Now to the important part, how to actually perform a factory reset on Android M (This method is also valid for Android 5.0 Lollipop, Android 4.4 Kit Kat and older). Make sure to follow each instruction step by step:
Step 1 – Open up your System Settings app and head over to the Device category
Step 2 – From here, Select the "Backup & Reset" option
Step 3 – At the bottom, select the "Factory Data Reset" option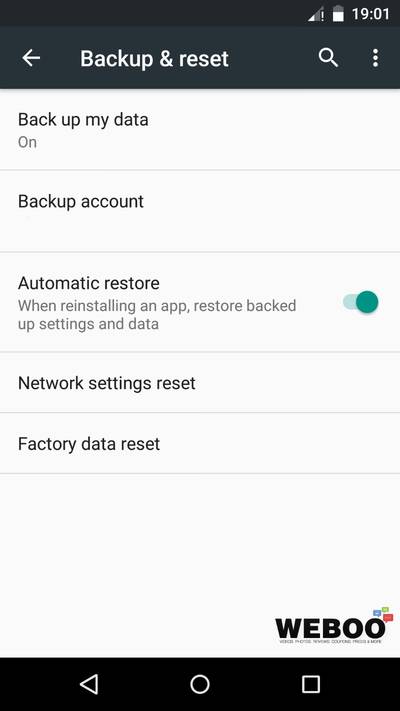 Step 4 – A warning will pop up asking if you are sure you want to perform a full factory reset, press the "Reset Phone" button then the "Erase Everything" button.
How to Wipe ART Cache Android M
The bellow guide will teach you how to wipe Android M ART Cache on your device. Make sure to follow every step and not skip any.
Turn your device off.
Turn it on again and if you can see the Google logo press and hold the Volume Down button
A small menu will appear. Navigate with the volume button and select "Recovery Menu" then press once the power button to confirm.
Once in the recovery menu, navigate to "Wipe Cache Partition"
Press the power button to confirm.