Android is an operation system that allows users to customize many of its aspects and with all the apps we install these days, things can get pretty messy. If your device is starting to have issues like random reboots, apps causing problems etc. there is a lesser known feature in Android Lollipop that allows you to detect and fix most of them: Safe Mode.
What is Android Lollipop Safe Mode?
Safe Mode can be compared to booting into Safe Mode on a Windows PC. It allows you to boot in an Android version without most of the additional unnecessary features and apps, almost all things party apps won't be available on your device if you boot into Safe Mode, but keep in mind that it is only meant to be used to fix issues and not as a permanent replacement for the normal boot.
Safe Mode is mainly used to detect Apps or other tweaks done by the user that are causing issues.
How do i boot Android Lollipop into Safe Mode?
Booting Android 5.0 or any Android version into safe mode is very simple. First, press and hold the Power button down and wait for the little boot menu to appear. Once it has, select the "Power Off" option and hold it pressed until a popup appears, this will ask you if you want to reboot into Safe Mode, select "OK"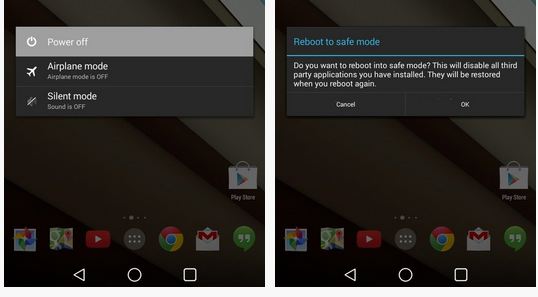 Once your device has booted back on, you know you are in safe mode if at the bottom left side of the screen it says "Safe Mode". You can return to the normal mode and get all your third party apps back by simply restarting the device again (follow the same process as before, but don't hold the "Power off" option.