Virtual reality in 2021 was a year in which virtual events took hold like never before, providing the platform upon which people can live their lives through their screens. Forbes note that the virtual events industry has grown phenomenally, with a 25% increase expected over the next seven years, and with that growth will come more exciting grounds upon which people can experience digital living through VR. Today, people are using virtual tools to look for property, manage their wellbeing in new ways, and even tie the knot.
Virtual weddings in 360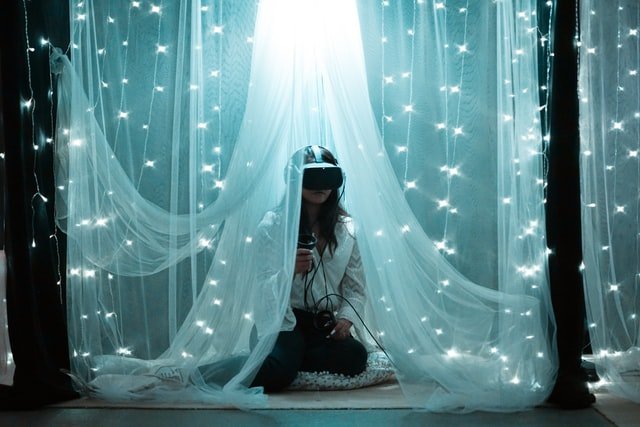 Often cited as the biggest day of any given person's life, a wedding is a huge event that, for many, attracts a huge amount of people and activity. 
However, as the BBC has pointed out, many couples have opted to host virtual wedding ceremonies rather than postpone their big day – and it's turning out really well. A code of virtual wedding conduct to stop 
issues like unwanted chatter during important parts of the ceremony is already well in place, and technology continues to evolve to provide bespoke features such as high-quality camera links for document verification and signing, virtual card signing, and even take-home bags that might once have been filled with the spare wedding food.
VR is Improving our wellbeing
The circumstances that necessitated a shift towards virtual life have also led to some unfortunate side effects with regard to public health. A journal published by The Lancet found that anxiety and depression levels had risen steeply in 2020, with a far greater level of support required for many people. Technology has stepped into the breach to try to alleviate this situation. According to health mag Fierce, CES has featured new technology that will allow those with depression and anxiety to alleviate symptoms and their causes, such as loneliness, with remote monitoring so friends can always help.
Finding new property through virtual reality
The property market is something that has undergone a huge transformation. In response to federal statistics that indicate a huge 76% downturn in USA property sales, many real estate firms have turned to the use of virtual house lettings to try to smooth over the process. By using 3D imaging and laser mapping, homes can be intricately and accurately given a virtual profile to be explored – either by VR browser or by
VR headsets
.
Between these new options and a myriad of others, the world is starting to enjoy a virtual future. While people can't actually get out and about to events, they can enjoy them via ever-improving tech. Who knows what might be next?