A bug is causing issues with iPhone users as a new text message is causing their iPhone to crash or reboot. The text message causes the iPhone to crash because the unicode string in question is part of a much longer block of text that cannot be fully rendered in Notifications, when the message is received the iPhone tries to render it to display a notification, this causes the iPhone to crash.
This issue is affecting many users, specially ones who have funny friends and there is currently no official fix from Apple however, several fixes have been found that can temporarily fix the iOS Text message crash bug.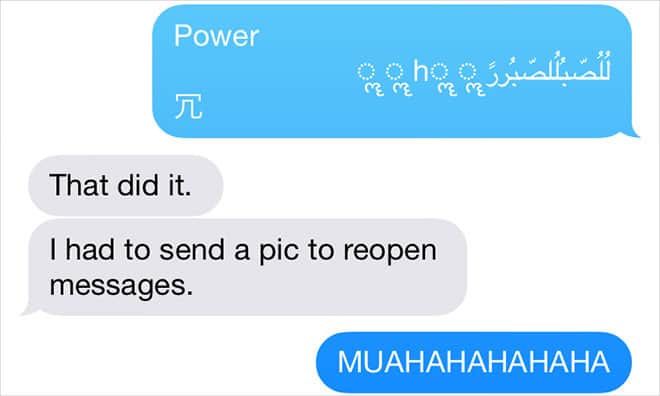 How to Fix iOS text message crash Bug
Method 1 – The person who send you the text can send you another text message essentially canceling out the effect of the first one and with this return your iPhone to normal. This one is only handy if you have other ways of communicating with this person so you can ask them to send you another message.
Method 2 – Sending your self another message can also cancel out the effect of the malicious text. For those wondering, this can be done from your iPad, Mac or even via Siri on your iPhone.
Method 3 – If the same user that sended you the malicious code can send you a picture, it can be used to open the Message app and delete the conversation history, with it the text message and the problem.
How to prevent the iOS Text Message bug to affect you
The methods above are only useful if you have already received the text message, but how can you prevent getting affected by it? The methods bellow can be applied to do just that:
Method 1 – Head over to Settings >  Notifications > Messages Choose the "Show on Lockscreen" option and turn it off. Also make sure to select the Style when unlocked "None" option. This will prevent the notification from causing the issue as explained previously on how the text message works.
Method 2 – Disable the Show in Notification Center option. From the Settings > Notifications > Messages window, Choose Show in notification center and choose "No Recent Items"
These are all temporary solutions. Apple has confirmed to iMore that it is working on a permanent fix that should be released soon.
We are aware of an iMessage issue caused by a specific series of unicode characters and we will make a fix available in a software update.