Xiaomi has already released MIUI 6.5.5.0 for the new Mi 4i smartphone, the OTA update will start rolling out May 26th according to Hugo Barra , Xiaomi vice president.
The new  MIUI 6.5.5.0 features a ton of changes and improvements with one of the biggest changes being the fix to the overheating issue, as Hugo Barra explains:
"We've heard from some Mi 4i users that their devices can get warm under more strenuous conditions such as complex 3D gaming for extended periods of time. To address these concerns, we've optimized our thermal control algorithms to better regulate the temperature. The new thermal controls adjust frequency, voltage and the number of cores in use depending on the chipset temperature"
 Xiaomi MIUI 6.5.5.0 changelog – Full list of Changes
Bellow is the full MIUI V6.5.5.0.LXIMICD. changelog:
System
Optimisation – Optimised device temperature controlling parameters (05-14)
Fix – Poor speaker quality when audio volume was low (05-12)
Fix – Some earphones types were recognised incorrectly (05-12)
Phone
Fix – Sometimes, calls could not be made when there was only one SIM card inserted (05-11)
Home screen
Fix – Apps' names and images did not match when they were displayed in card mode in Recents page (05-11)
Camera
Optimization – Unified animations when switching between front and rear camera using gesture and icon
Optimization – Optimized exposure time icon
Fix – Select/cancel icons and flash/hdr/switch cameras icons displayed simultaneously after third party apps used camera to take videos
Fix – Shutter speed was incorrect
Xiaomi MIUI 6.5.5.0 OTA Download – Download MIUI 6.5.5.0 OTA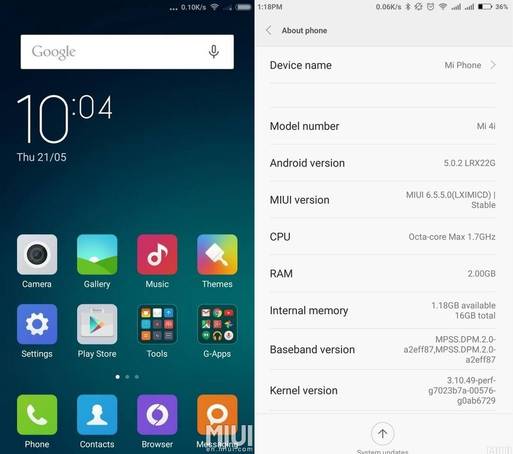 The OTA Should arrive on your device soon. The roll out has been done in stages so you should receive the update in the next couple of days, for those who are interested in manually updating their device to the latest version now can do so by downloading the ROM bellow:
Download Mi 4i MIUI 6.5.5.0.LXIMICD
Hello, my name is Niels Bosch
and i am the founder of AmongTech. Currently living in the South of Spain. My main interests are web development, playing video games once in a while, Apple, Marketing and SEO. I am currently studying Business administration, Networking & Security and Database management and will be doing so for the next year.