OnePlus Co-Founder Carl Pei has just tweeted out that the they have delayed the much awaited CM12S until March of this year. OnePlus own modified version of Cyanogenmod 12 based on the latest version of Android, Android 5.0 Lollipop isn't the only one that has been delayed as its custom ROM OxygenOS of which we recently got our first insight of has also been set back to March.
While no specific release date has been given, Carl Pei the co-founder of OnePlus has confirmed that the CM12S Release Date delayed until Mid to Late March 2015.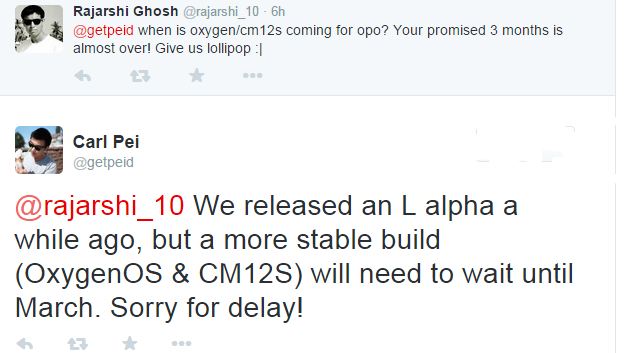 For those who already want to install Cyanogenmod based on Android 5.0 Lollipop on their device, many developers have ported CM12 to newer devices, here is a full list of all devices that will receive CM12
Hello, my name is Niels Bosch
and i am the founder of AmongTech. Currently living in the South of Spain. My main interests are web development, playing video games once in a while, Apple, Marketing and SEO. I am currently studying Business administration, Networking & Security and Database management and will be doing so for the next year.