Safari is one of the best browsers and one of the best things about it is the ability of which it lets it user's access a wide range of extensions to enhance the users browsing experience and productivity. Although Safari has only a limited number of extensions to choose from, the ones it does have are more than enough for the average user as they consists of useful and effective extensions which help make browsing better than ever. So to help you find the best extensions available right now, we've come up with a list on what we think are the top 5 Best Safari Extensions you should be downloading and using right now.
1. Awesome Screenshot
Awesome Screenshot let's you capture, annotate and share all of your screenshots with the simple lcick of a button. You are also able to crop, show the dimensions of an area, annotate the screenshot with either your choice of text or shapes and finally blur parts of the picture, this feature is especially handy when it comes to taking a screenshot of a page which includes your personal information, now you can easily blur it now so no one can see. You even have the choice of either capturing the entire page, just the visible part of the page or a selected area, once you've done that, you can upload it to share with your friends.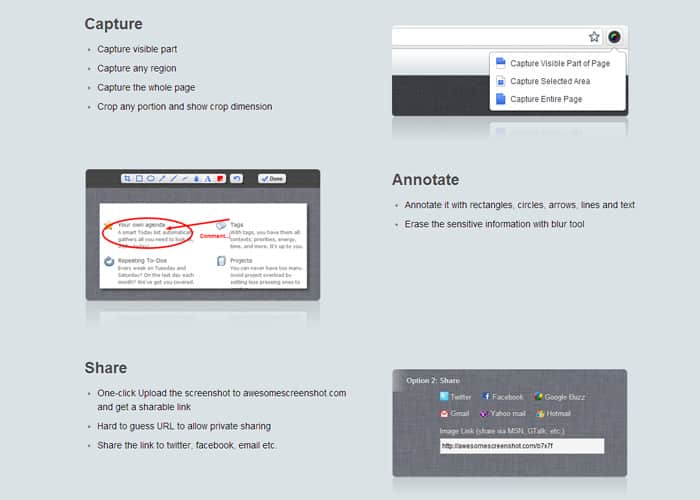 2. Add to Amazon Wish List
With the Add to Amazon Wish List your wishlist will always be accessible from any website you go on. With this official Amazon extension, you are now able to add any item from any website to your wish list with a simple click. This extension will come in very handy for example when you're just browsing any old website and you see something you're interested in buying, but instead of going over to Amazon to either add it to your basket or your wishlist, you can simply add it directly from that site.Giving you time to keep browsing while you decide whether you want to purchase that item or not. The extension make it easier than ever to keep track of all the items you want.
3. Twitter for Safari
The official Twitter extension from the people over at Twitter themselves help bring all the real time trends and information to every webpage when you're browsing using Safari. The extension shows tweets and Twitter users which are related to the page you're on, so for example if you're on the BBC's new site and you're looking at a new article, the Twitter extension will display all the related tweets to do with that story, helping you find the best users to follow if you want to keep up to date. It also keeps track of what's trending at the moment and will also include any mention of the web page you're currently on, and if you want to spread some news  you are also able to easily tweet the page you're on, complete with a link thats already been shortened for you.
See also: What is the best mobile browser of 2014?

4. Ultimate Status Bar
With this status bar extension it will reveal what links are trying to hide from you, for example the destination, file types, the size of these files and the possibility of having Rick Astley pop up when you click the link. The extension embiggens shortened URL's which is very useful for people who are wary of shortened URL's as when the URL is shorted it  doesn't give any hint into what really lies beyond that link, whether its a page you don't want to visit or just a screamer sent to you from a friend. Both of which are extremely annoying, so with this extension you can eliminate that problem. And when you don't want to use the extension, it will hide discreetly out of sight, you can even customise your Ultimate Status Bar to look whatever way you want.
5. Turn Off the Lights
The Turn Off the Lights extension does everything it says, it turns off the lights when you most want them too. For example it will dim the lights around a YouTube video you're watching, because too be honest, when you're room isn't very well lit the bright white YouTube background can be quite blinding, especially if you've just woken up. But with this extension that problem is eliminated, so you can now watch your favorite video without any distractions or having the sensation of your eyes burning as you sit there.
See Also: Top 5 Google chrome extensions that will increase your productivity