Twitter has recently updated its website UI giving it a new fresh look and making it much more user friendly. Now it appears like there might come another big UI change to Twitter as user @TheGingergeek shows in a new image of his profile, the new design does look very similar to Google Plus featuring a huge header image.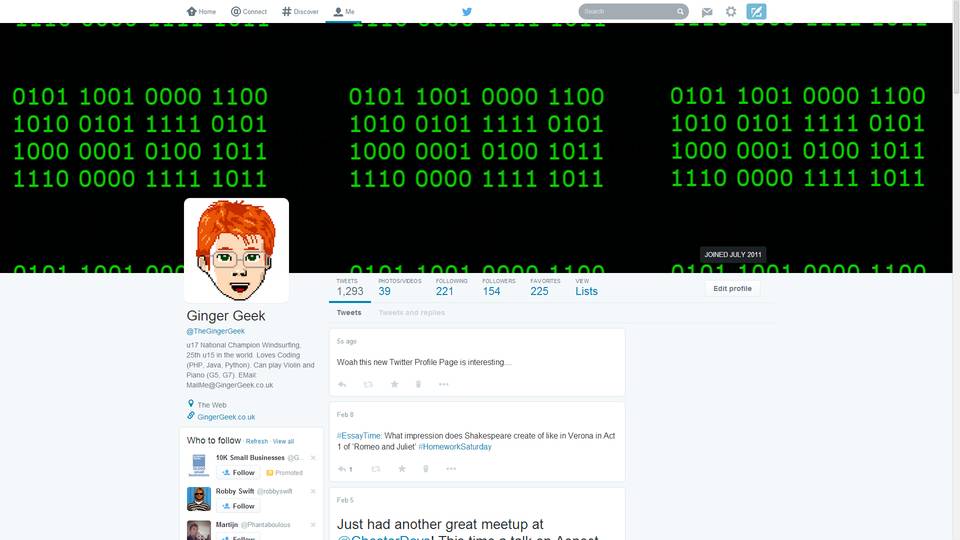 The new profile has gone through quiet some changes, your profile picture will now be located on the left and right under it will be your twitter Bio and website.
Your twitter home feed was already organized by type of tweet but it now allows you to easily access these different types of tweets by conventionally locating them at the top of your home feed, these are all loaded within the page and when clicked don't require you to reload the page. It is yet unclear of this UI update will go live and for who it is currently visible, Twitter has done something similar to this previously before releasing the last UI change.
Update 1: Mashable has uploaded some more images also showing that the twitter is now organized in a more facebook like way and is much more photo centric
Hello, my name is Jenifer Whiteside and i am an Author and Editor at AmongTech. I joined in 2013 as the fourth member of the team. I live in the US and am 27 years old. I will provide social network & Social media for AmongTech. I currently work for a big company located in California and live with my fiancé in California.