Revitalize Your Android 5.0 with Over 140 Beautiful Material Design Wallpapers
The exciting world of Android 5.0 Lollipop has ushered in an era of minimalist aesthetics with the introduction of Material Design. This groundbreaking design language is changing the way we interact with our devices, offering a modern and delightful user experience. As we embrace this change, it may be time to revamp our digital spaces to align with this fresh approach to design.
You can download the wallpaper.zip file including all wallpapers here if you don't feel like downloading a 60MB file and want to choose a specific wallpaper and just download that one, check out the gallery on Google Plus here.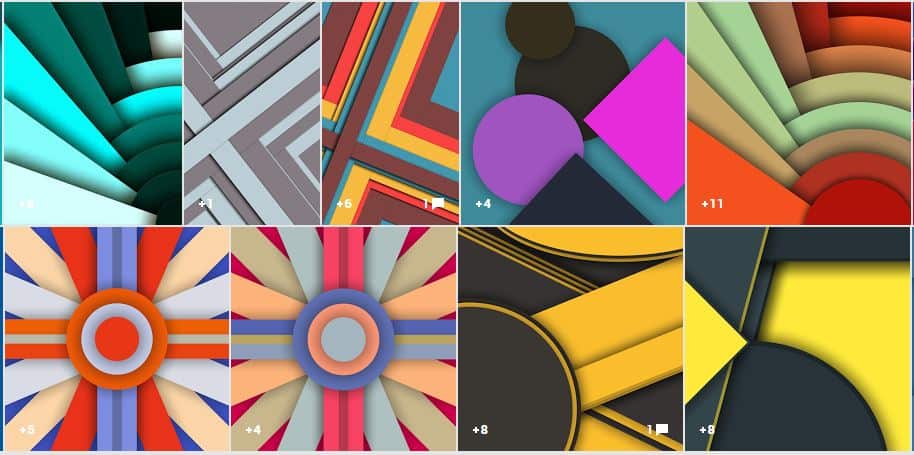 One of the quickest and most impactful ways to bring about this transformation is by updating our device's wallpaper. A wallpaper sets the mood and personality of our device, reflecting our tastes and preferences. For those of us who pay meticulous attention to our device's aesthetics, selecting the right wallpaper is a task of paramount importance. Now, imagine if that perfect wallpaper could also align with the principles of Material Design, thereby marrying our personal tastes with the hottest design trends!
It seems like a tall order, but fret not! Renowned Google Plus user Brian Parkenson has assembled a collection of over 140 Material Design wallpapers tailored specifically for Android 5.0. Whether you're a fan of subtle gradients, playful geometric patterns, or vibrant color palettes, there's something in this collection for everyone.
A Deeper Dive into Material Design
Before we explore the wallpaper collection, let's take a moment to understand what Material Design is and why it has taken the world of user interface design by storm. Introduced by Google, Material Design is a design language that combines the classic principles of successful design with innovation and technology.
It focuses on creating simple, clean interfaces that are easy to understand and delightful to use. Material Design employs depth effects such as lighting and shadows to mimic the physical world, all while optimizing for a vast array of device sizes and platforms. The goal is to create designs that feel tangible and realistic, promoting a high level of user engagement.
Now, imagine bringing this level of thoughtfulness and design excellence to your device's wallpaper. That's precisely what you can expect from the Material Design wallpapers for Android 5.0. They reflect the principles of Material Design in their simplicity, clarity, and user focus, creating an engaging and visually pleasing backdrop for your device's home screen.
140+ Material Design Wallpapers at Your Fingertips
With over 140 Material Design wallpapers to choose from, it might feel overwhelming to navigate through them all. To simplify this, we have grouped all wallpapers into a single downloadable .zip file. You can download the entire wallpaper.zip file here. With just a few clicks, you can have a plethora of vibrant and minimalist wallpapers at your disposal, ready to revitalize your Android 5.0's screen.
But we understand if you're wary of the storage implications of such a download or if you have a more selective approach to choosing your wallpapers. In that case, we encourage you to visit Brian Parkenson's gallery on Google Plus, where you can view and download individual wallpapers. This way, you can pick and choose your favorite designs without needing to compromise on your device's storage or your personal preferences.
What Makes These Wallpapers Special?
What sets these wallpapers apart is the beautiful synergy of simplicity and color. They masterfully blend minimalist design principles with a rich, varied color palette, creating a stunning visual experience. Each wallpaper is unique, showcasing a different aspect of Material Design, from geometric patterns and bold color blocks to gradients and shadows. They've been crafted with care, paying close attention to balance and harmony, ensuring that they're a pleasure to look at without detracting from the legibility of your icons and widgets.
Furthermore, the wallpapers are high-resolution, ensuring that they look crisp and stunning on any device, regardless of screen size. Whether you're using a compact smartphone, a large tablet, or even a high-resolution monitor, these wallpapers will look fantastic and make your home screen stand out.
Join the Conversation: Share Your Favorite Wallpaper
With such a vast collection at your fingertips, we're curious to hear about your favorites. Have you found a design that speaks to you, or are you still shuffling through the options? We invite you to share a screenshot of your chosen wallpaper in action. Not only will this give us an insight into your preferences, but it might also inspire others in their own journey of exploring Material Design.
Sharing your favorite wallpaper isn't just about showcasing your aesthetic choice; it's about participating in a larger conversation about design trends, personal preferences, and how technology impacts our visual experiences. We look forward to seeing your chosen wallpapers and hearing about your experiences with Material Design.
Conclusion: More Than Just a Wallpaper
As we conclude, it's essential to note that adopting a Material Design wallpaper for your Android 5.0 goes beyond simply keeping up with the trends. It's about embracing a design philosophy that prioritizes user experience and aesthetic appeal. It's about personalizing your device to reflect your style, preferences, and the technological era we live in.
The wallpapers in this collection are not merely backgrounds for your device—they're extensions of your personal style and testaments to your appreciation for good design. By choosing a Material Design wallpaper, you're making a statement about your values and how you interact with the digital world. So go ahead and explore this comprehensive collection, find your favorite wallpaper, and let's embark on this exciting journey of visual transformation together!
Android 5.0 with Material Design is rolling out on various devices and it might be time for you to change your old boring wallpaper to one that fits the new Material design just a little better. If you are one of those who is incredibly picky with its wallpapers but still wants something more material design-friendly we have good news for you, Google Plus user Brian Parkenson has uploaded a collection of more then 140 Material Design wallpapers meant to be used with Android Lollipop.
Download All 140 Material Design Wallpapers for Android 5.0