Twitter has updated its mobile App lately several times, making minor changes to the user interface to allow the user to get a more pleasant user experience. The guys over at Reservio had a small look into the new "Twitter design" (which is currently in beta) and we expect it will soon launch for the web version of Twitter, the new design will not affect the layout of the page but mostly the visual appearance.
The new Twitter web client design will feature a new "Compose a New Tweet" window which is located in the middle of the screen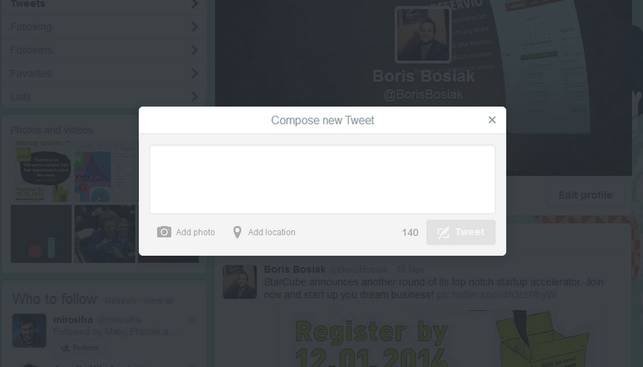 the Twitter Logo has been moved to the center of the top menu bar, twitter has also implemented the new icons which it has recently introduced in its mobile App's and it has also changed its Font size and design. In the image bellow make sure to look at the font where the tweets and followers are displayed, the Compose a Tweet icon, the twitter logo and Home icon.

(The image above shows the profile of Reservio CEO Boris Bosiak) The most noticeable change has been made to the Direct Message icon which is a cross between a Chat bubble icon with the familiar looking Direct Messaging icon. This could mean that direct messages will become more of a Instant Messaging feature into Twitter allowing users to have private conversations, this is also related to the recent change Twitter had made to enable anyone to send you an Instant Message.
Update: Boris Bosiak was kind enough to provide AmongTech some exclusive more screenshots regarding the new Twitter redesign. He also lets us know his opinion on the new design " [The design] reminds iOS7 in lots of ways. I don't really like the overall experience. I Find certain information distracting comparing to previous version." Take a look at the screenshots here:
To our disappointment the Direct Messaging section hasn't changed, which means that it will probably take a while before a Instant messaging like feature will be introduced into Twitter.