No business is safe from cyber-attacks.
Even small or newly started companies can be targeted by hackers. Attacks are not always because of the expectation that the hacker can steal cash. The attackers may also not be interested in stealing information or taking critical files hostage. Sometimes, the perpetrators just want to spread malware that damage computers and create a big enough impact that makes it to the news.
The ILOVEYOU computer worm, for example, was not meant to spy on computers or implant irremovable ads. It just sought to replicate, spread, and damage files. MyDoo, regarded as the most damaging computer virus ever, was designed to implement a Distributed Denial-of-Service (DDOS) attack. No funds or data were stolen, but damages were inflicted especially on hi-tech companies such as Microsoft and Google.
According to the Accenture 2019 Cost of Cybercrime study, the average cost of cybercrime stands at $13 million for every business or organization. The average number of security breaches rose by 11% from the previous year, and 67% when comparing the numbers over the last five years.
Bottomline: cyber-attacks, regardless of the intention, can be damaging for businesses. It's only logical to put systems in place to block the intrusion and the proliferation of anomalous software. Installing an antivirus and malware protection platform like ReasonLabs is not only advisable; it is a must.
ReasonLabs – What You Need to Know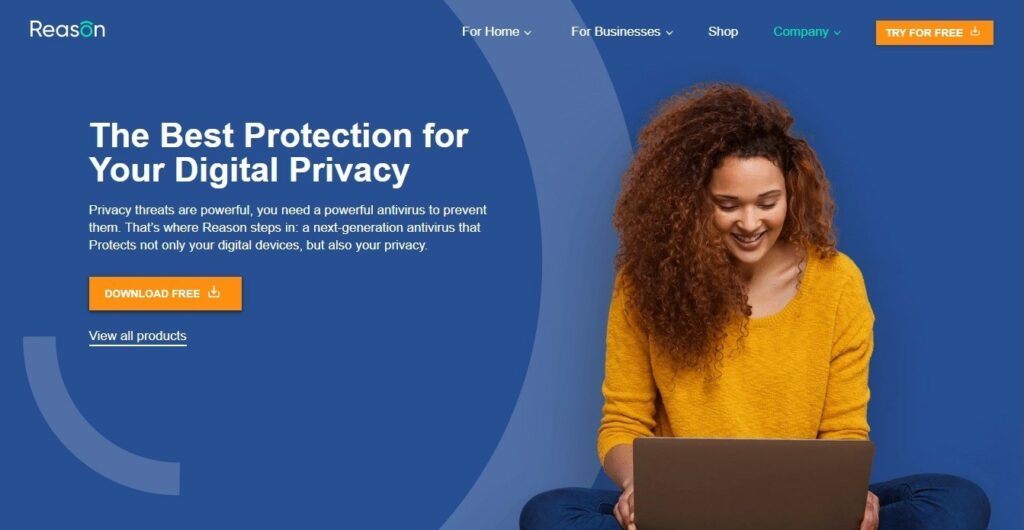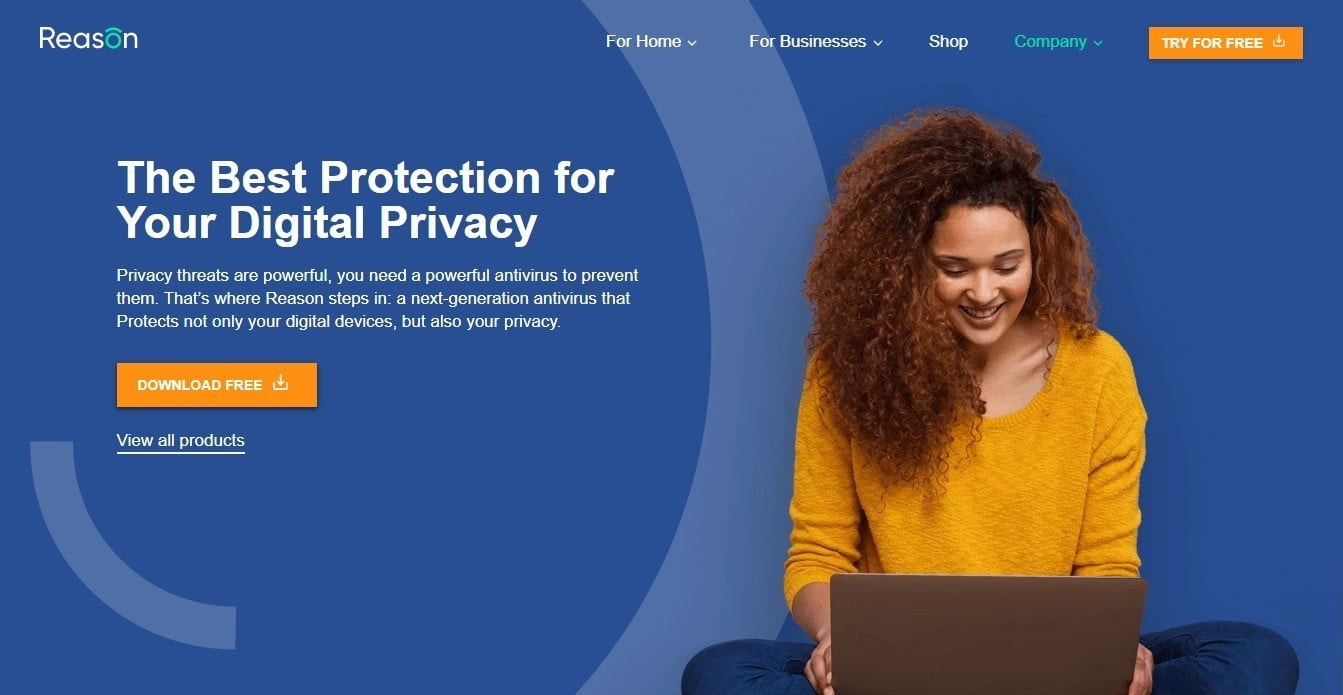 Reason is arguably one of the top solutions when it comes to viruses and other cyber threats. Unlike ordinary anti-malware tools, it is backed by the expertise and experience of one of the people responsible for the development of Windows Defender, the renowned security tool that was earlier released as a free anti-spyware during the Windows XP era. It is now a built-in malware protection component of the Microsoft Windows operating system.
A number of reviews have cited ReasonLabs competence in addressing malicious software. CNet hails its reliability in preventing adware and potentially unwanted programs (PUPs). Softpedia similarly affirms Reason's ability to eliminate malware effectively. Windows Instructed, on the other hand, describes Reason as "an absolute asset to your computer."
Reason is a reliable malware protection system that also emphasizes the protection of online privacy. It acknowledges how attackers ceaselessly innovate and tweak their tactics in an effort to defeat standard defenses. That's why Reason continues evolving and creating new ways to prevent penetration. This commitment to perpetual improvement is, in a way, evidenced by the live map (on its website) of cyber-attacks tracked and prevented by Reason.
Here's a list of the most important features Reason offers:
Real-time protection (running in the background) with minimal resources used
Virus and malware detection on-demand
Ransomware proofing
Tracker detection and removal
Prevention of deceptive software installation
Browser protection
Camera and microphone security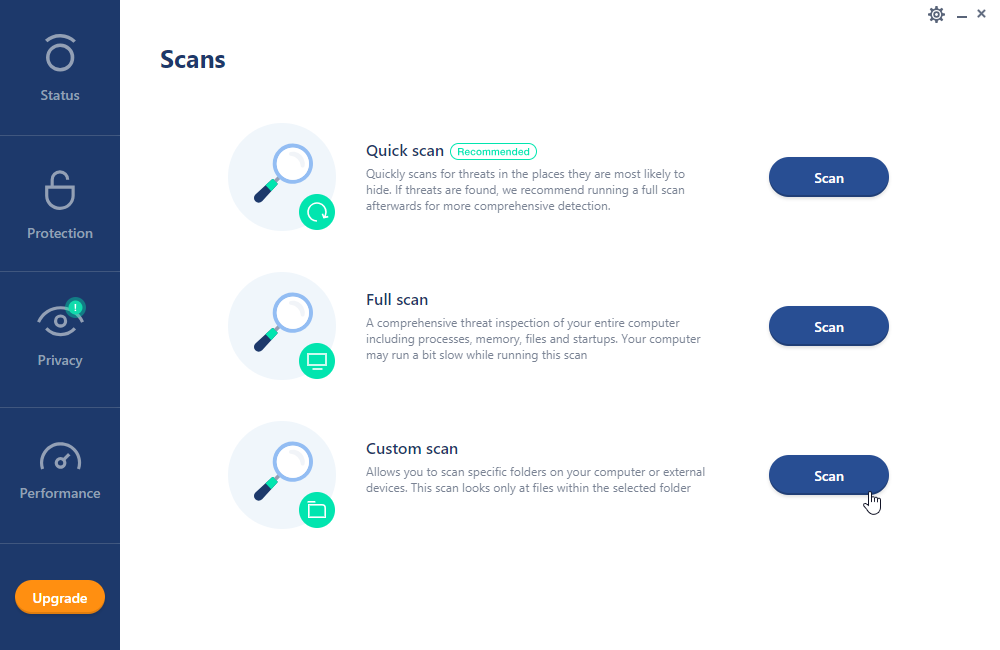 One of the highlight features of Reason is its special attention to ransomware — something from which every business will surely benefit. Most businesses keep data that can be critical to operations. If they are successfully encrypted by malware (to be decrypted after the business pays the ransom), either the business has to pay the ransom, or start all over again. Such a problem must be avoided as it is not only a hassle; it also entails opportunity costs or additional operating expenses.
Moreover, Reason sees to it that the cameras and microphones on computers don't become entry points or tools for hackers. The system does not make things too complicated, though. It tracks the apps that request access to the microphone and camera and lets users set a whitelist or configure the need for permission every time access is required.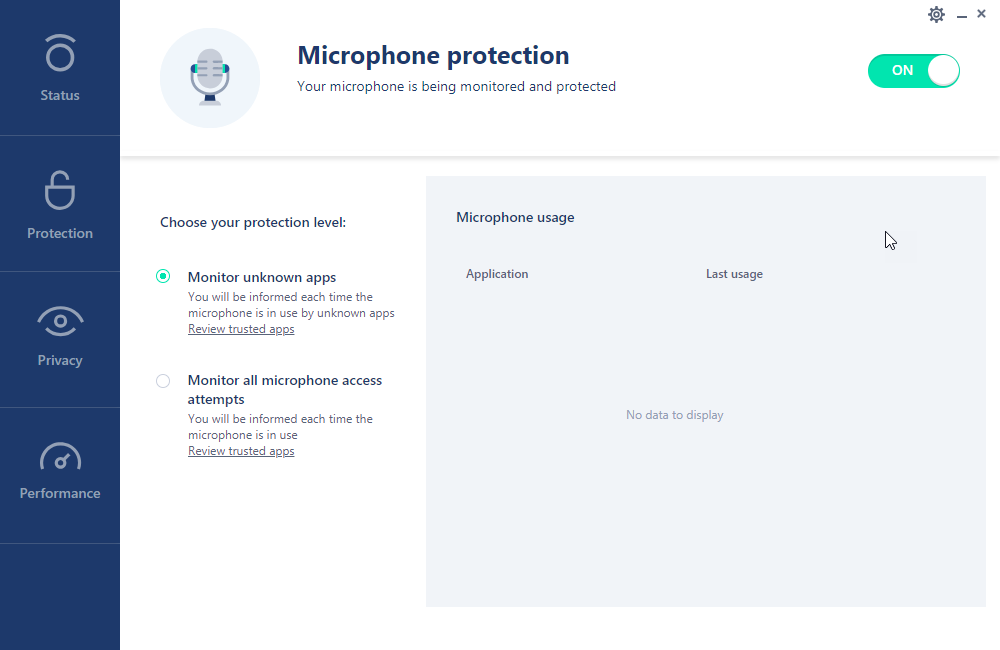 The main concern of Reason is to protect small and medium-sized businesses. It's a great option for startups that are looking for a dependable anti-malware tool that is affordable and easy to use. It supports customization so that businesses can modify the appearance of the software's interface to make it suitable to the image and prominent colors of a business.
Reason has a free version, which is great for those who want to try the product. Instead of making it a shareware or trialware, users can use it for free, but with some features taken out. It's advisable for business users to go for the full premium version, though, as it has most of the functions that are highly useful for commercial establishments.
See the comparison of the free and premium versions below.
Differences between the Free and Premium Versions
The free version is called Reason Essential while the paid one is Reason Premium. The latter is available for $29.99 after the ongoing 50% discount on its regular price is applied.
Reason Essential is limited to only three major features: virus and malware scanning, real-time security, and threat removal.
Reason Premium, on the other hand, prevents the installation of unwanted or deceptive apps. It also comes with a browser add-on to enable safe web browsing by regulating the cookies and scripts permitted to run on certain pages. It has special detection mechanisms to identify trackers. Additionally, it provides the ability to prevent ransomware infections and secure the audio and video recording components of computers. All of these come on top of the basic features of the free version.
The camera and microphone protection feature is one of the things that make ReasonLabs distinct from most other anti-malware software. It's not just about preventing hackers from revealing the faces of the employees in a company or showing them in compromising or unflattering situations. Hidden video and audio footage can be used to blackmail or steal company secrets. Hence, camera and microphone hijacking must be avoided. Also, at the very least, the recording of videos can consume bandwidth and computing resources, which can slow down Internet connection and computer performance.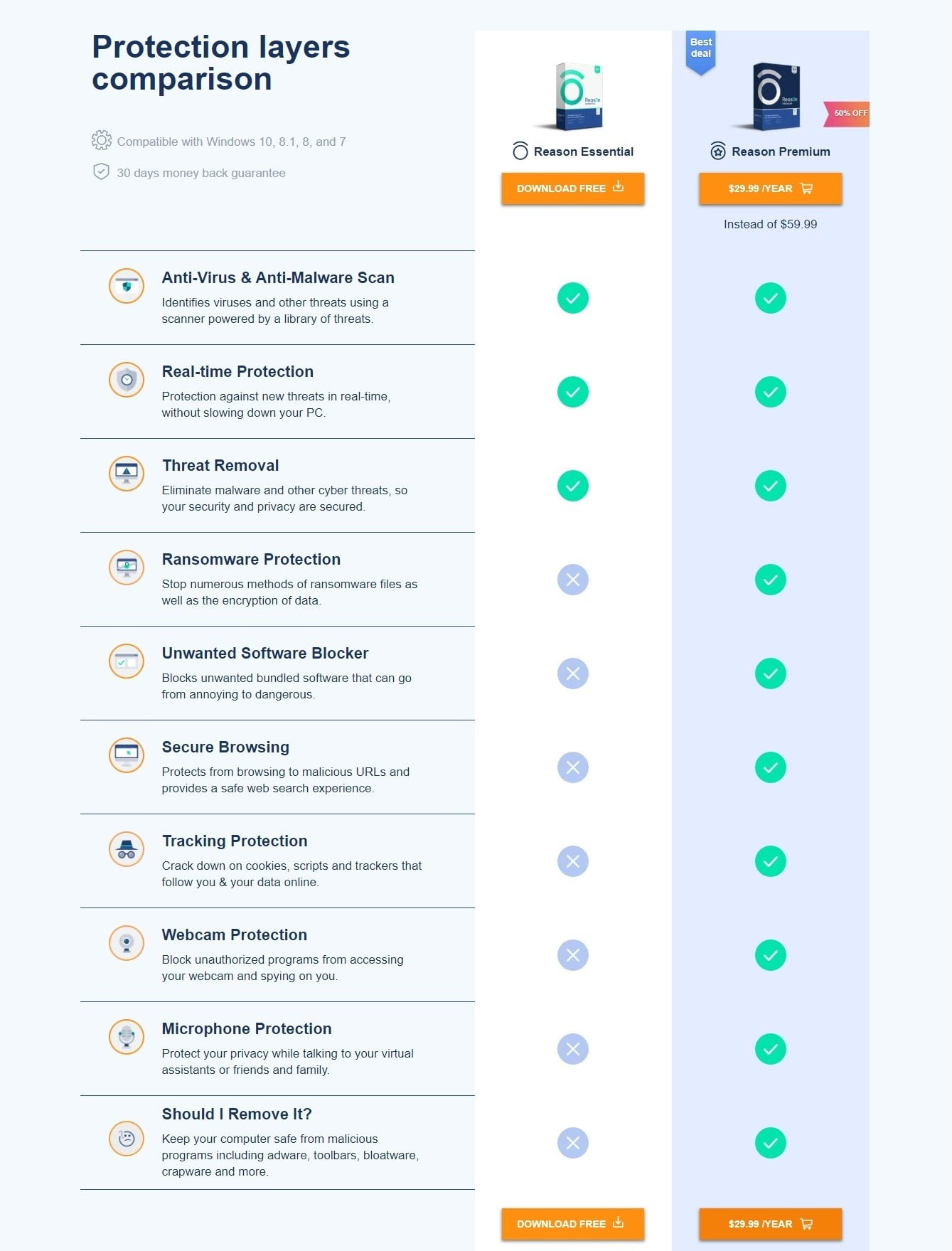 ReasonLabs is a great choice for those that are new to using a commercial antivirus or malware protection system. Not only does it do its job effectively and efficiently, it is also highly intuitive. It shouldn't be difficult to figure out how to make it work or where to click to go to specific functions of the software. It's designed to look and feel familiar to those who have been using Windows computers for a long time.
Another important advantage of ReasonLabs is Reason Essential or the free version of the software. With it, businesses can try the software all they want and not worry about a trialware prescription.
Additionally, ReasonLabs is designed to work efficiently. Running it in the background does not result in performance degradation in most computers. The occasional freezing or bumps may only be encountered when the system detects and handles malware infections, which is normal for any antivirus or malware protection application.
Lastly, businesses can benefit from Reason's emphasis on security. This is especially advantageous for companies that implement BYOD (Bring Your Own Device) policies. Many employees who use their own personals computers at work are usually not keen on putting up a solid security system for their devices since they tend to think that they have full control over their computers. They use their devices exclusively so they may believe it would be unlikely for them to stumble upon malware or get exposed to hackers with the kind of "careful" habits they follow.
Convincing BYOD employees to install new software on their devices is not going to be easy unless they can be assured that the software is safe, low on resource consumption, and that they will not have to pay for it. ReasonLabs ticks all the right boxes, so it shouldn't be difficult to ask employees to use it.
ReasonLabs software is designed to run on 7, 8, 8.1, and Windows 10. Unfortunately, these are the only operating systems this cybersecurity software covers at present. It has no versions for Mac and Chrome computers. Likewise, it can't be used on mobile devices, particularly those running Android, iOS, and Windows Mobile.
Additionally, ReasonLabs also appears lacking. It promises an "Internet of Things protection" function, which is still labelled as "coming soon."
It's not difficult to recommend ReasonLabs as an alternative to popular antiviruses or malware defense systems. It is a reputable product that works as advertised. It has all the important features to help secure businesses. Also, it is better than the built-in malware tools of operating systems.
While the OSX and Windows already provide built-in malware protection, they are not as good as third-party tools. Different third-party antivirus companies have released studies pointing out the fact that their products are still better at detecting threats and avoiding false positives. Of course, these are self-serving studies, but the veracity of their results has not been contested. Businesses wouldn't go wrong giving ReasonLabs a try.