Spotted by Florian Kiersch the Chromium source code reveals new details regarding the upcoming Nexus 6 and Nexus 8, all though there have been many rumors of the device and the code where it is mentioned doesn't reveal any specific information regarding it, it does show us that Google is definitely working hard on getting its upcoming flagship devices ready.
Previous rumors about the Nexus 6 claim that there will be 2 versions available, a budget $100 and the flagship version. Both will be manufactured by LG  but the budget $100 version will feature a Mediatek SoC  either the the MT6732 or MT6752 which are Quad core CPU's. Here is the source code mentioning the Nexus 6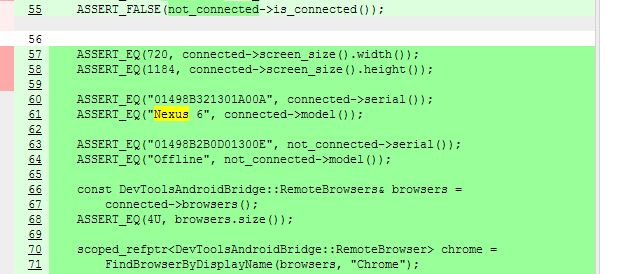 On line 25 we can see the source code
mentioning the Nexus 8 
This is not the first time the devices get mentioned in source codes as previously the Nexus 8 was mentioned in the upcoming Android Kit Kat 4.4.3 changelog
Hello, my name is Niels Bosch
and i am the founder of AmongTech. Currently living in the South of Spain. My main interests are web development, playing video games once in a while, Apple, Marketing and SEO. I am currently studying Business administration, Networking & Security and Database management and will be doing so for the next year.