More and more Samsung Galaxy S4 owners have reported their smartphone catching fire while charging. Yet another user has reported on Reddit  that his 9 month old Galaxy S4 cached fire last night after leaving it in the charger, he claims the smartphone was covered in "some wet, smelly substance" (caused by the leaking battery)
I unplug it from the charger to find that the charging port is burnt. The charger itself (male port) is burnt and rusted. The phone charging port is burnt as well. You can see the plastic around the charging port is melted. I always leave my phone on when I sleep so I was surprised. I then turned it on to find that everything was reset and I have no reception.
For those wondering why the phone has no signal, its because of the antena being next to the charger. Here is a picture of the burned charger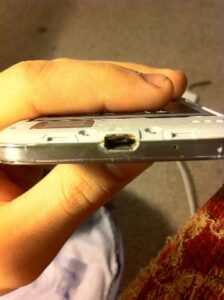 This isn't the first Galaxy S4 to catch fire and it seems to be happening more often, several weeks back a man's apartment in Hong Kong burned down due to a Galaxy S4 caching fire. Recently a Canadian youtuber which goes by the name of Ghostlyrich uploaded several videos regarding his Galaxy S4. After he posted the video, he got a letter from Samsung asking him to remove the video from youtube in order to get a replacement smartphone from a "similar model" and asking him to keep complete silence about the matter and denying everything regarding his smartphone catching fire, for those interested in reading the full letter you can do so here. Here is the video from Ghostlyrich:
The problem seems to happen due to a battery malfunction, the chemical substances in the battery can cause an explosion and create a small fireball, we recommend you follow these steps in order to make sure you are save and your smartphone doesn't explode:
Do not let your phone or its battery be subjected to extreme heat (Example: leaving it in a parked car that is under the hot Sun)
Try to not overwork your device (Example: Playing video games while charging the device)
Don't charge the smartphone while you are asleep and if so, make sure to put it in a place far away from you and any object that easily catches fire.
Don't use unofficial chargers, 2 out of the 3 exploding smartphones were using unofficial chargers. They also remove warranty
Any other advice? Make sure to share it!
Update: In Germany a Galaxy S4 has exploded while charging on a baby's changing table. Full Article. Here are the related pictures: