Adventure travelers need a few things to ensure they have a fantastic trip. While one of those things is courage, you'll also need a bag that can get you from point A to point B without worrying about losing precious property, equipment, and documents. FlightHub gets this. As an online travel agency, FlightHub reviews not just the best places for people to visit, but how to do so safely. While they specialize in flights, some of their more travel avid team members had some great recommendations for must-bring travel gear. Using their recommendations and my own research, I have compiled a list of three great packs that you should consider before heading out on your adventure!
Tortuga Backpack
A bag designed by adventure travellers for adventure travellers. The Tortuga isn't flashy, it isn't pretty, but it is extremely efficient and well-designed. It's full length design makes accessing every part of the bag very simple, including the built-in laptop storage compartment. If security is your concern, the Tortuga's built-in zipper locks should help you rest easy. Another great feature according to FlightHub is the minimal straps, making it easy to pass the Tortuga through as checked luggage.
The North Face Surge II
This bag is not only durable enough to protect your precious electronics, but also has the ability to charge them. The Surge II features a built-in battery pack that allows for charging of any USB device, a potential life saver if you get lost in the wilderness. The battery itself is good for a little over three device charges at a time, meaning you could get a lot of juice out of it on long hiking trips. Another obvious application for this is for photographers looking to get into deep country without running out of juice.
Gregory Border 35
A lesser known company when it comes to backpacks, The Gregory Border 35 is another super simple backpack that does exactly what its supposed to do efficiently and without needless bells and whistles. Its full body compartment effectively splits, allowing for you to easily store your laptop and remove it with ease according to FlightHub. This really simplifies the process of removing your laptop at the airport, which is helpful no matter which airport you are flying in or out of.
Tom Bihn Aeronaut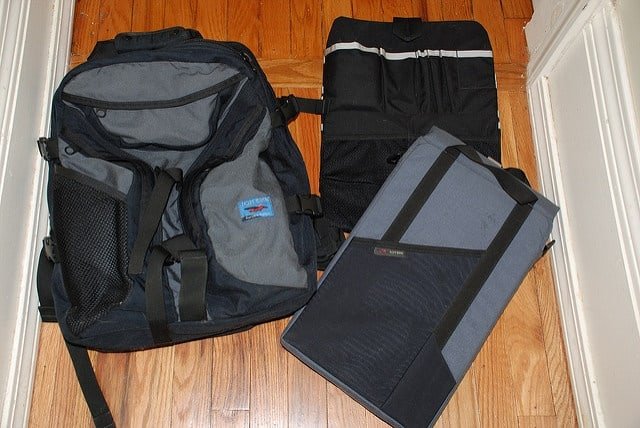 For those who prefer compartments and extreme organization, the Tom Bihn Aeronaut is the bag for you. Known for quality materials and attention to detail, a lot of customers who use these bags swear by them because of their versatility and durability. This bag is especially awesome due to its easy transition from backpack to duffle bag. The only downside to this bag is the lack of a dedicated laptop or water bottle holder, though being creative with the pack allows you to pack almost anything according to FlightHub.