Android 5.0 Battery Saving mode is one of the great new features that comes with Android Lollipop. Google's latest version isn't all about aesthetic changes it also makes some huge improvements and modifications under the hood, one of which is the new battery life called: Battery Saver (huh, what a surprise)
Lets take a closer look at everything this new mode changes, how to enable it and how it will affect your system.
What is Android 5.0 Lollipop Battery Saver mode?
Once enabled, the app will mostly modify the things that are constantly running in the background. Many apps run in the background even when you aren't using your device (like email or instant messaging apps like WhatsApp) by enabling Battery Saver, these apps won't be able to keep running in the background and with this save a lot of battery life it will also turn off syncing and device performance will be reduced 
How to enable Android 5.0 Battery Saving Mode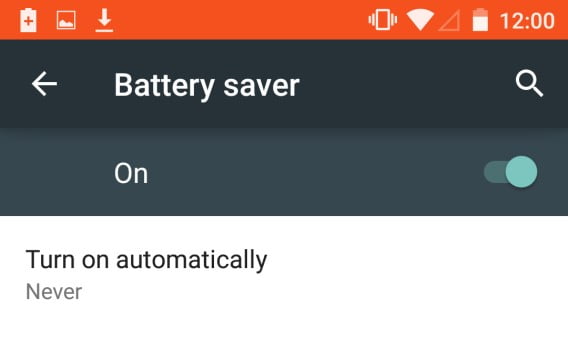 Enabling the Battery Mode is incredibly easy, of course this requires you to run Android 5.0 Lollipop (You can check what version you are running in Settings > About Phone). Now, Open up the Settings app and head over to Battery once there, on the top right it says "Battery Saver" tap on it and it will take you to the configuration screen.  As far as how to configure it you've got a few options:
Turn it on manually (this will keep it on no matter what happens)
Turn it on automatically when you reach 15% battery life
Turn it on automatically when you reach 5% battery life
Tell it to never come on automatically