Reviews on Amazon's new media streaming device the Amazon Fire TV have started to roll in. The Fire TV launches late in an already crowded market with big companies like Google and Apple currently owning the biggest market share, but Amazon isn't known for being the first to launch a new product category instead, it is well known to provide cheap and very reliably devices like the Kindle Fire HDX tablet. Lets take a look at review scores and verdicts from other critics:
The Verge. Score: 8.8
Dan Seifert  was impressed with the power of the Amazon Fire TV but complained about the lack of content as the device doesn't give access to any other channels that aren't available on for example the Roku or Chromecast "[Amazon] it just gave me another box to watch the same content I can see plenty of other ways." while Amazon was expected to provide much more (like live TV). Check out the full review from TheVerge

CNET. Score: 7.8
CNET thinks the Fire TV is really a device for the hardcore Amazon services fan, since most of the new features that the device packs are only available on the Amazon apps. CNET also highly valued the setup of the device calling it an "incredibly simple" process. Check out the CNET review
 Toms Guide. Score: 7.0
Complaining mainly about (just like The Verge) the lack of content, Toms Guide gave the Amazon Fire tv just a 7.0/10. Saying that "Major video and music providers missing" and that the games on the device weren't worth paying the additional $50 for a controller. Read the full Tom's Guide review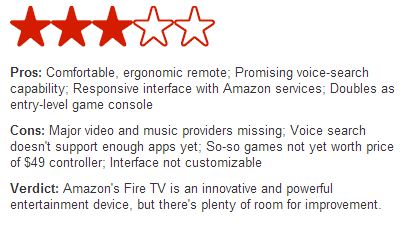 ReadWriteWeb. Score: 6.0
ReadWriteWeb might be the ones that have given the Amazon Fire TV the lowest score from all. Dave Smith  said he loved the speed of the device but just didn't think Amazon would be able to compete with the Apple TV "It won't be enough to convert Apple TV owners", which currently hold more then 80% of the market share. Dave also (like many) complained about the huge lack of content. Read the full RWW review 
Hello, my name is Niels Bosch
and i am the founder of AmongTech. Currently living in the South of Spain. My main interests are web development, playing video games once in a while, Apple, Marketing and SEO. I am currently studying Business administration, Networking & Security and Database management and will be doing so for the next year.