This February, detectives were able to use the latest security technology to catch a suspect who stole $1,000 worth of copper piping from a construction site in Lawrence, Massachusetts. Francis Mayi, 31, was charged with breaking and entering to commit a felony and larceny after an employee noticed surveillance footage showing a man entering the site's garage bay with his face covered, according to the Eagle-Tribune. Cameras then caught the man pushing a cart filled with copper wire out of the building and driving out of the garage in a gray Dodge Caravan. By extracting photos of the suspect and getaway vehicle from surveillance footage, interviewing local recycling businesses, and comparing footage with Facebook photos, detectives were able to identify and detain Mayi, the news source reports.
As this illustrates, technology is helping construction companies recover stolen property, as well as prevent thefts from occurring in the first place. Theft is a major concern for construction companies, costing the industry an estimated $300 million to $1 billion annually, the National Equipment Register estimates. Here's a look at three cutting-edge security technologies construction companies are using today.
Mobile Surveillance Units
One of today's most popular surveillance options for construction companies is mobile security units. In contrast to traditional security equipment that is hard-wired into a permanent location, mobile surveillance units employ wireless technology, making it easy to move them to any location and install them anywhere. This makes them ideal for deployment where temporary work is being done, such as construction sites. Mobile surveillance units are also easy to set up at remote locations, useful for certain construction projects.
To provide power at construction sites where utility resources may be limited, some mobile security units are solar-powered. Mobile surveillance platforms can be combined with features such as motion detection cameras, 360-degree panning and tilting and zooming, license plate recognition, and two-way audio.
Security Drones
Drones are another technology construction companies are adopting to improve security. By providing aerial coverage, drones enable security companies to expand the range of their security coverage, supplementing the view provided by other cameras.
Drones can be set up so that they are activated by motion sensors, going into action when a site's security perimeter is breached. In addition to security, drones are also providing other benefits to construction companies, such as assisting surveying, monitoring safety conditions, and providing aerial documentation of project progress.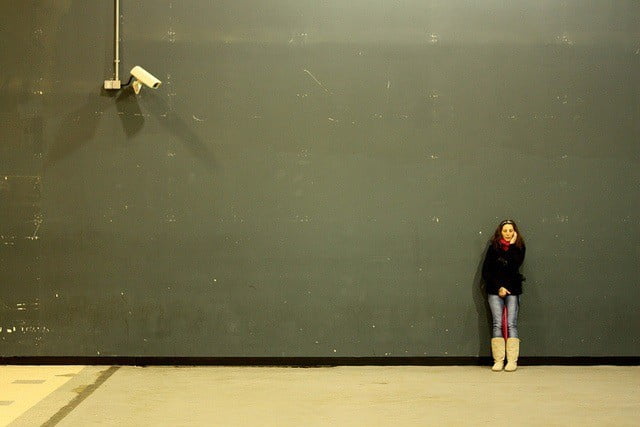 Remote Security Guard Monitoring
Both mobile surveillance units and drones are frequently combined with remote security guard monitoring services. Remote monitoring services provide construction companies with the equivalent of a virtual guard, reducing the cost of hiring an on-premise guard. A remote security guard can monitor multiple cameras from one location and instantly inform law enforcement when suspicious activity is spotted.
Remote security patrols can be scheduled for certain times of day, such as after workers have gone home for the evening. Remote guards can be used as virtual doormen to verify the identity of visitors and allow authorized personnel on-site, or as virtual escorts to make sure employees stay safe in parking lots when they go home for the evening.
Mobile surveillance units, drones, and remote guard monitoring are three of today's cutting-edge technologies that construction companies are using to bolster their security. By deploying these technologies, construction companies are keeping their sites more secure at a lower cost, reducing the risk of theft and keeping their workers safer.