Twitter has just launched a mysterious twitter account called @EventParrot (spotted by the guys from TechCrunch) that will send you direct messages that help you keep up with what's happening in the world without the account actually following you back. As of now Twitter allows you to send personal messages to users if you follow them and they follow you back, but it seems like there might be coming a change to this in the future.
It isn't the first time Twitter uses a account to experiment new features on @MagicRecs was used to test a new recommendation system which eventually got implemented into the popular social network. Event Parrot has gained over 12.000 followers in less then a few hours, however the Twitter account isn't verified yet, but is followed by several Twitter employees.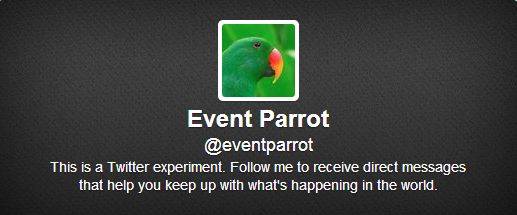 Update
: Event Parrot is now officially a verified twitter account.