With the recent launch of the Galaxy S5 many of you might have purchased the new device which starts at about $200 (depending where you buy it). Even though the device is water and dust resistant it certainly isn't scratch or fall resistant. It doesn't matter if you simply want increase the protection of the device or you like the way covers and cases look, finding the right case or cover for your Galaxy S5 can be a hard job. We have decided to put together a list featuring the 3 best ones in both protection, functionality and aesthetics.
Cygnett Thread Flip case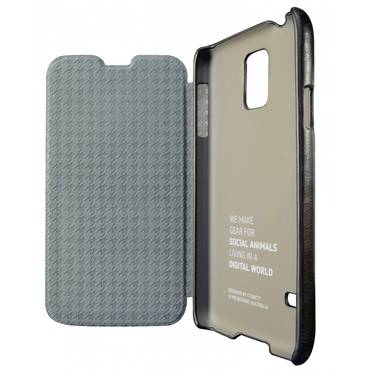 The Thread Flip case provides protection for both the back and the front of the device. The case provides a front leather flip which will help you protect the front screen from any damage and a svelte polyurethane case. It is available for just $40 on Amazon
Spigen ultra hybrid Air Cushion case
I know many of you want to increase the protection of your device but still show off the device's design, for those situations we can only recommend the Spigen Ultra Hybrid Air Cushion. This Bumper/Case provides a transparent back panel that protects and allows you to see the back of the device. The TPU bumper is a shock absorbing bumper that will protect the device's display when falling on its side. It is available in 4 colors and costs just $10 on Amazon
Spigen S View Flip Cover and Case
Samsung has its own S View flip cover, but because in this article we will only cover cases we wanted to mention the Spigen S View flip cover and case alternative. Featuring a similar design as the Samsung S View but also protecting the back of your device. The flip cover features a small window which can be used to see the time, battery, signal and other handy information. The case can also be used as a stand. It is available for $17 on Amazon
Hello, my name is Niels Bosch
and i am the founder of AmongTech. Currently living in the South of Spain. My main interests are web development, playing video games once in a while, Apple, Marketing and SEO. I am currently studying Business administration, Networking & Security and Database management and will be doing so for the next year.