Star Wars is a huge cultural influence on the world's film in general, but with the release of new additions to the already classic series, everyone is chomping at the bit to learn everything they can about the vast and expansive Star Wars Universe and the goings-on within it. What goes with that legendary territory is, of course, merchandise, because who wouldn't want to own a tiny piece of that amazing world to keep in their house, to put on display, or to use effectively as a means of listening to music. That's right, we have compiled here for you a list of some of the best Star Wars speakers around, but choose wisely, as only one of these speakers can lead you down the path of greatness…
Make the Kessel Run in Less Than 12 Parsecs
The Millennium Falcon has long captured the hearts and minds of people since it first appeared on screen in 1977 in Star Wars Episode IV: A New Hope, and has since seen considerable screen time in follow up productions. Unlike the obnoxiously loud TIE Fighters, the Millennium Falcon was a ship of considerable speed but low maneuverability (comparatively), and now you can own the legendary ship itself as a bluetooth speaker. Han Solo won this ship in a bet from Lando Calrissian and his adventures in it added to it's legacy and under his command it ascended into legend, despite its shabby appearance. With wireless streaming of music up to 30 feet all around, the Millennium Falcon Speaker sits on it's base and just looks incredible. High level of detail makes this speaker a great choice for anyone committed to the rebel cause, or just the cause of looking out for number one (Han Solo style).
Fittingly, You Always Hear Them First
The Empire's choice for fighter ships has always included the instantly recognisable TIE Fighters, with their howling twin ion engines, you always hear them first, which is exactly what they should be doing if your choice of speaker is the TIE Fighter Wireless Speaker. With a rechargeable lithium ion battery and bluetooth capability up to 30 feet, the TIE Fighter speaker makes a pretty image sitting on it's base and blasting music like some kind of rowdy Empire fighter pilot. The colouring and design is accurate to the films, and as with any Empire craft, you can be sure it will work until it bursts into flames during a space battle with the rebel ships.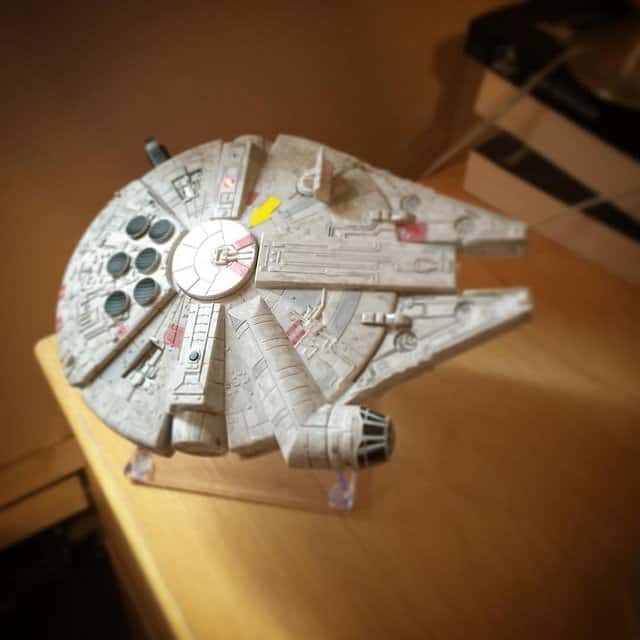 That's No Moon…
One of the most memorable moments in the Star Wars original trilogy is when the observation is made that it isn't a moon they're looking at, but in fact, a giant space station/enormous weapon capable of destroying entire planets. The Death Star is iconic, and immediately brings to mind the power possessed by the Empire before the rebels managed to strategically take it down. Now the Death Star is in your hands, and for the first time a fully disney endorsed FLOATING Death Star bluetooth speaker will be available for you to hold in your hands, or float magnetically above it's dock (whichever you prefer). The Death Star Speaker has 360 degree amplification for it's crisp and clear sound, and can be used without wifi or any internet connection, and from any bluetooth capable device. Listen to your music from a floating orb of unquestionable power, or use it to broadcast the sound of the Star Wars movies to all corners of the living room. With 5hrs battery life and the option to take it out without it's base, there will always be room for your new Death Star Speaker.