Whether you planned for a small intimate wedding or a large and formal affair, having a rehearsal dinner offers an excellent opportunity to have a personal interaction with your family and close friends. Your wedding day will be pretty busy so this will be the perfect chance to thank them in advance for celebrating the special day with you. what's more, you do not necessarily have to break an arm and a leg hosting the event.
A rehearsal dinner shouldn't be overlooked. It sets the tone for not only your wedding but also for the celebratory weekend. Therefore, it is essential to send out the rehearsal invites on time if want to get the desired attendance.
As a host, you will definitely want your guests to feel comfortable in the best possible way. And what better way to do that than by sending them proper invitations. It is a great way of making your guests feel special and welcome.
What is important is to have a good time at your event. Embrace and savor that rare moment where you get to create unforgettable memories with your loved ones.
The Purpose
The event entails more than sharing a meal. It is also a time for making speeches and toasts. All the long speeches should ideally be made during a rehearsal dinner.
In a lot of situations, this is the first event where all the bride's, as well as the groom's family and friends, come together. Since this dinner has an intimate and laid-back vibe, this is the ideal setting to encourage those attending to mingle freely and get to know one another.
The Execution
Most brides and grooms feel the need for their rehearsal dinner to echo the theme, style, and mood of the wedding. However, there are absolutely no rules to this. You can play with your imagination and come up with a different look or feel.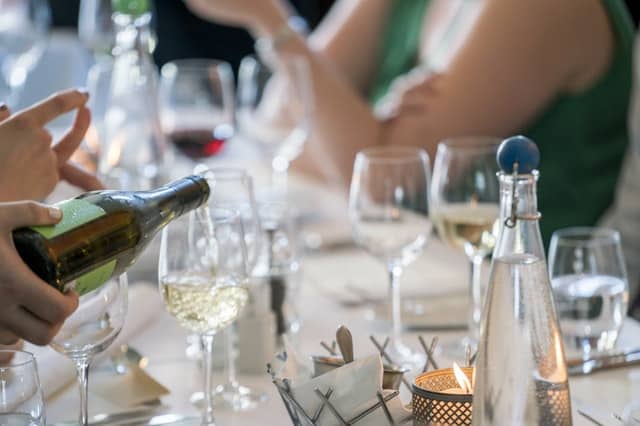 Guest List
Coming up with a guest can be a bit difficult since everyone coming to the wedding will not be invited to your rehearsal. Some of the guests who should make it your rehearsal list are:
Wedding party members
Parents
Grandparents
Officiant
Those who've made significant contributions to your wedding in terms of money and time
The Invitations
Ensure that your invitation represents the formality of the dinner and not necessarily that of your wedding. Be sure to check on the postage amount before sending out the invitations.  Underpaid postage doesn't sit well with a lot of people.
The Invitation Wording
Simplify your invitation. It could be fun, casual or formal depending on what you prefer.
When Should You Send Rehearsal Dinner Invitations?
The best time to send out invitations for your rehearsal is 4-6 weeks before your wedding day and after mailing your actual wedding invitations. Don't exclude guests just because they are out of town. Since they will be participating in your wedding it is good to include them in your rehearsal guest list as well.
Lastly, remember that your rehearsal dinner is a joyous occasion. Have fun and forget about all the stresses that come with planning a wedding. Let this event be an opportunity for you to soak everything in and relax.