Many football fans may not know but there is more than one league taking place when every Premier League game is being played.  Alongside gaining points to win the trophy and qualify for Europe, teams are also gaining points from some of their games for the LED Hut's Footy Under Floodlights League.
What is the league?
The Floodlights League was created by the company to help showcase the benefits of LED lighting for sports clubs of all sizes and variations around the UK.  As one of the top suppliers of LED lighting, LED Hut know what these benefits are including the cost effectiveness, energy efficiency and great quality of lighting that they create.
The results were based around the last 38 games that all clubs played under floodlights, usually after 4pm during the winter and after 5:30pm in the lighter months.  The results were put together and a winner was announced – Manchester United!
Floodlight winners and losers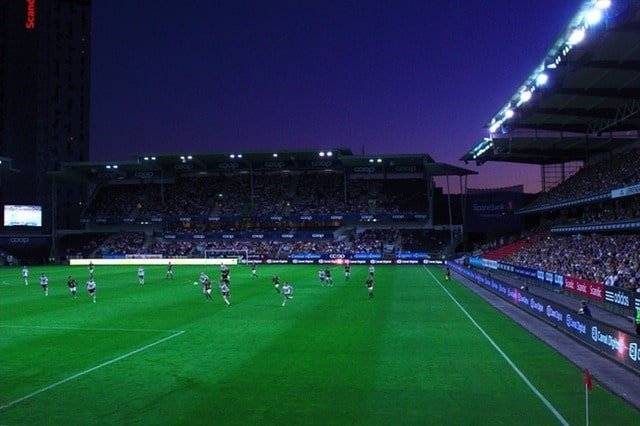 Manchester United took an impressive 71 points from their last 38 games under floodlights, composed of 21 wins and 8 draws.  While they lost their last game to West Ham, also the last game to be played at the Boleyn Ground, the team beat their nearest rivals Manchester City with Arsenal coming in third and Liverpool fourth.
Notable results under floodlights this season include a 7-3 win by Arsenal against relegated Newcastle United while the winner of the highest score in a floodlit match goes to Chelsea, after their 8-0 battering of another relegated team, Aston Villa.
At the other end of the table, results mirrored the Premier League in many cases.  Both Newcastle and Aston Villa were in the bottom three while West Brom joined them, due to the high number of draws in their evening matches.
Why LED?
While the league is a bit of fun, it does highlight a growing trend for business and homes to use LED lighting for a variety of their needs.  Top of the list of attributes is that LED lights last far longer than conventional lights – some clubs expect to get 10 seasons from their new floodlights.  This in turn reduces the cost of replacing them and their energy efficiency also saves money.
Being free of toxic chemicals, these lights are also ecologically friendly and can be recycled at the end of their long lifespan.  Most importantly, of course, is that the quality of light offered is second to none – ideal for homes, businesses and Premier League football matches!