With so much focus being placed on the top tier end of the smartphone spectrum, with most customers drooling over the most recent Apple, Samsung, Google or Huawei release, there is a group of smartphones that is often overlooked. Rugged smartphones, unlike many of the current flagship models, are built to last. Forget glass backings and easy to scratch screens; these devices laugh in the face of danger, making them perfect for a specific group of consumers.
For those of us that work indoor jobs, sheltered from the elements by an office and an air conditioning unit, the need to sport one of these phones will likely not arise. However, for outside workers, adventure travellers and nature fanatics, these handsets may be the perfect solution. Here, we take a look at the top five rugged smartphones to buy in 2020.
What is a Rugged Smartphone?
A rugged smartphone is a device that has been built specifically to withstand damage, usually housed within a thick casing. The devices are typically designed to protect against water, dust, shock and vibration.
Most, if not all devices, will come with an associated IP rating, denoting just how water and dustproof they are. As a rule, the higher the rating, the better, so this is definitely something to keep your eye on.
An IP rating is broken down into two factors and will have two numbers that follow IP, such as 'IP65'. The first number, so in this instance, the '6', describes how dust resistant a device is, on a scale from zero to six, six being the highest. The second number represents the waterproofness of the phone, rated between zero and eight.
Somewhat confusingly, just because a device is rated at IP68, for example, it may not have passed tests for ratings below it. For an IP65 rating, a device must withstand a jet of water, as opposed to a standard submersion test which IP67 would test against.
Rugged phones often use different screen and body materials to regular smartphones. They typically don't have as higher specifications as mid-range models, generally not requiring this level of computing power.
The Best Rugged Smartphones of 2020
Budget Option
CUBOT King Kong Mini
Image Source: Redskull
With two options on the market, the King Kong and the King Kong Mini, CUBOT offer perhaps the best budget options for an affordable, rugged smartphone. We're particularly fond of the Mini model, retailing on Amazon for between £100 – £110.
The device features a 4.0-inch display which is secured in place with zinc side reinforcements and soft plastic corners to protect from shock and vibrations. Its compact size is perfect for one-handed operation, and the grippy plastic reduces the possibility of dropping the device when wet.
The phone runs on Android 9.0 and packs 3GB of RAM along with 32GB of internal memory, along with a memory card slot expandable up to 128GB. Additionally, the phone features Face ID so that you can unlock the device quickly and easily. On the back, there is a 13MP camera along with an 8MP front camera. Supporting dual-SIM standby technology, the device fits two nano-SIM cards, making this an excellent budget option for work.
Perhaps the one downside to this device is the relatively modest battery, offering a capacity of 2,000 mAh.
High Spec Option
AGM X3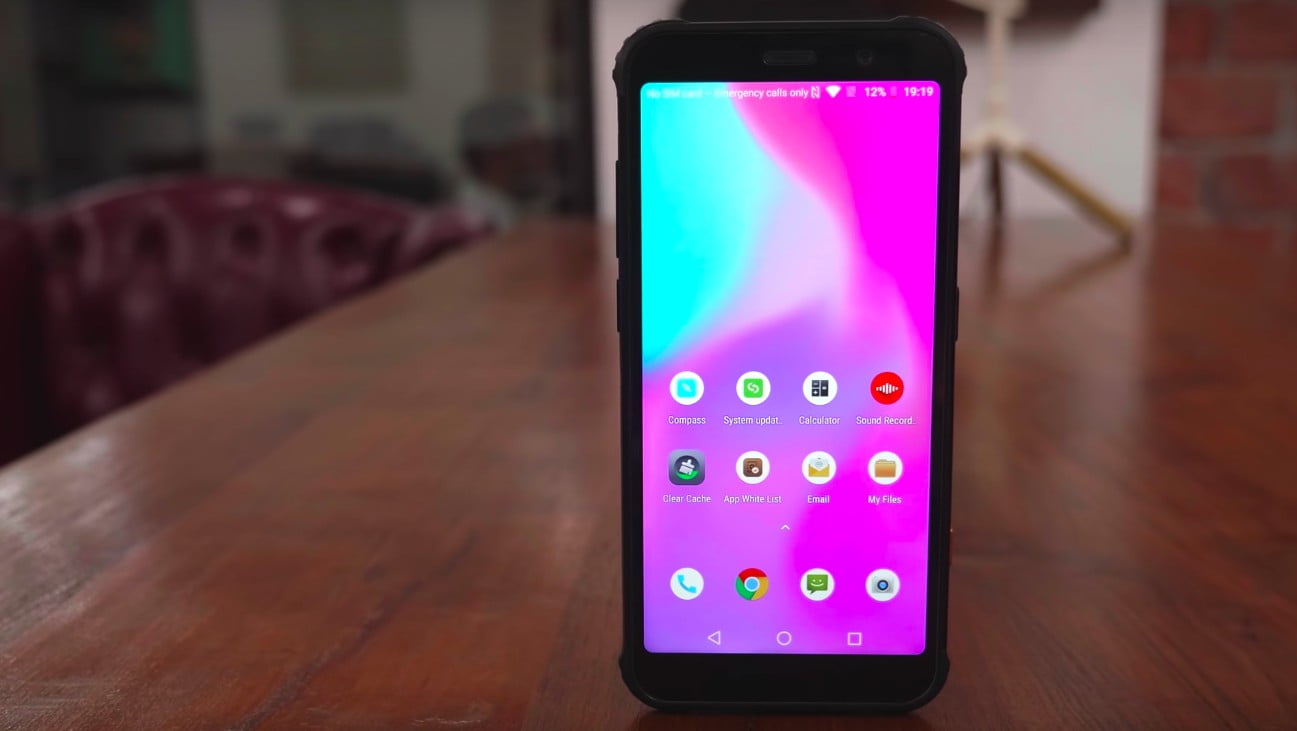 Image Source: iGyaan
Perhaps one of the highest spec smartphones to have been ever released, the AGM X3 makes no exceptions when it comes to design and performance. The device packs an IP68 rating, meaning it's extremely dust and waterproof, perfect for any outdoor activity. It is also built to MIL-STD-810G standard, which guarantees a specified level of durability.
The device comes with a 5.9-inch display boasting 1080 x 2160 pixels and features a slim design with reinforced corners to protect from shock and vibrations.
The phone is fitted with a Snapdragon 845 chipset, combined with 8GB of RAM and either 128GB or 256GB of internal storage. For cameras, the phone has two rear-mounted lenses, with 12MP and 24MP shooters for a sharp image. On the front, there is a 20MP lens which allows for Face ID unlock. Just below the rear cameras, there is also a fingerprint unlock sensor.
Powering these features is a 4,100 mAh battery along with 10W wireless charging. Overall, there are very few downsides to the device and if money is no object, is arguably the best rugged smartphone you could buy. However, if you're working to a budget, then perhaps consider looking for reconditioned phones to avoid paying the full retail price.
Work Option
CAT S41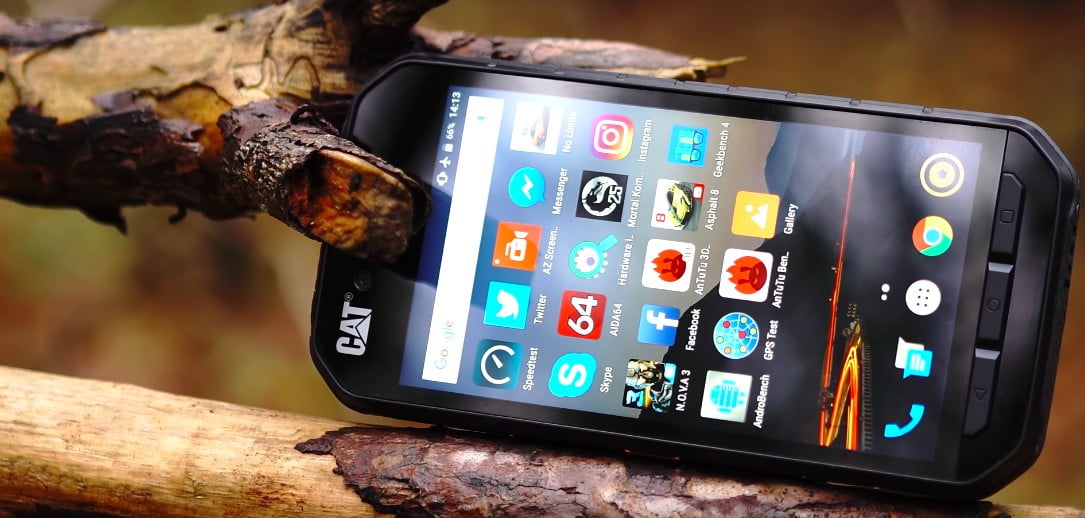 Image Source: techline – Linus
Renowned for their range of rugged smartphone devices, CAT presents perhaps the best work option in this range of phones. The S41 is one of their premium phones and is packed with features to ensure you can power through the day.
The display measures five inches and uses Corning Gorilla Glass 5, packing 1080 x 1920 pixels for a smooth user experience. As you would expect, the device is IP68 and IP68 certified making it waterproof up to two meters for 60 minutes. It is also very tough, being drop resistant of falls up to 1.8m and has been MIL-STD-810G certified.
The phone includes a 13MP single primary shooter to the rear with an 8MP front camera. These are by no means top-spec, but certainly good enough to get the job done. It includes 3GB of RAM and 32GB of internal memory, expandable up to 2TB with MicroSD.
One of the standout features of the device is the battery and the features that it comes with. The 5,000 mAh battery has a 44-day standby time and 36 hours talk time. It also features a reverse charging capability which means that you can power other devices using the CAT's battery, even deciding how much of the battery charge you want to use by setting the percentage.
Nature Option
UleFone Armor 7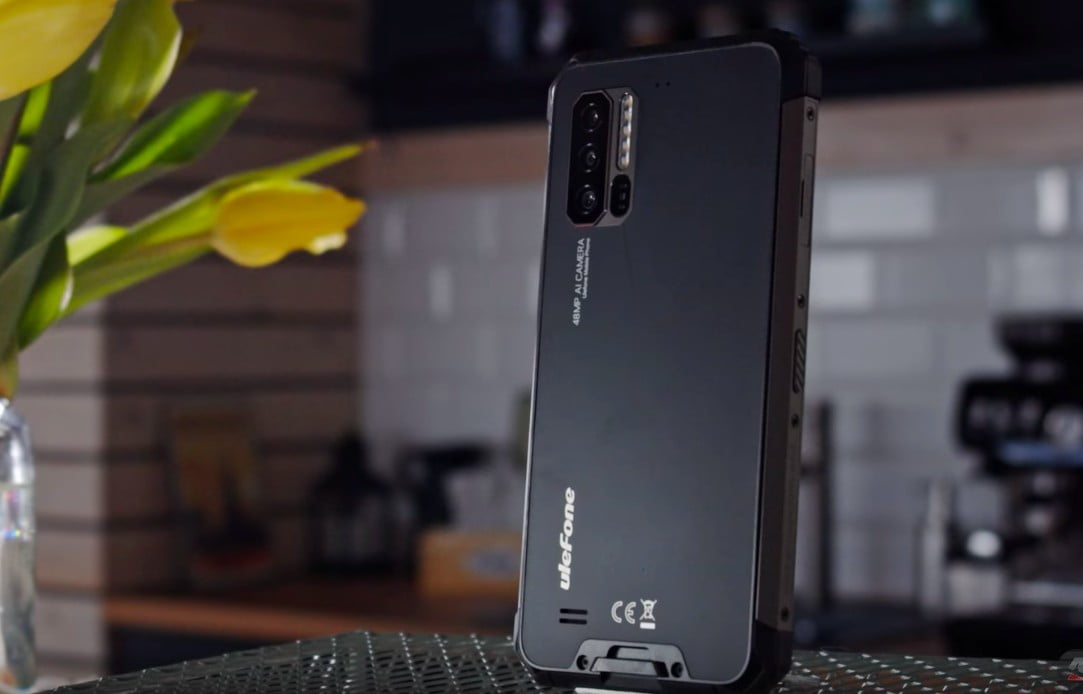 Image Source: GSMArena Official
For those who love to get out into nature and explore the countryside, there are few better-equipped devices than the UleFone Armor 7. This device is even a valid contender to the top-spec crown, offering amazing performance and build quality.
The display of the phone measures 6.3-inches with a 1080 x 2340 resolution, producing a 409 ppi density. The phone is also IP69K rated, making it one of the most water and dust resistant on this list, being capable of resisting high pressure and temperature water. Additionally, the device can withstand falls of up to 1.2 meters thanks to its reinforced corners.
Under the hood, the device runs on 8GB of RAM along with 128GB of internal memory. The MediaTek Helio P90 processor keeps everything running smoothly on the Android 9.0 system.
The reason we have chosen this to be the nature device is because of the outstanding camera setup, far exceeding others on the list. On the back, there are three lenses, including a 48MP wide-angle primary shooter, a 16MP wide-angle secondary lens and an 8MP telephoto. This setup can produce stunning images and benefit those who love getting out into the wilderness. On the front, there is a 16MP front camera.
The phone features a side-mounted fingerprint sensor for fast unlocks but does not support Face ID. The whopping 5,500 mAh battery is the largest on the list and is perfect for when you're away from power outlets for an extended period of time. The phone supports 15W fast charging and 10W wireless charging too.
Which of these rugged phones best suits your requirements? If you get one of these phones in 2020, make sure to let us know what your thoughts on the device are!