Google has just announced some exciting new changes to the Play Store. First of all from now on all apps that will be published are manually reviewed by a team of specialist, this should make sure that not only the content quality increases but also reduce the malware problem the Play Store has been having.
Google has also announced a new Age based Play Store Rating System that will show what age group a specific app is suitable for. Different rating system for content is used around the world, Google will use different age-rating organizations.
How the new Play Store Rating System Works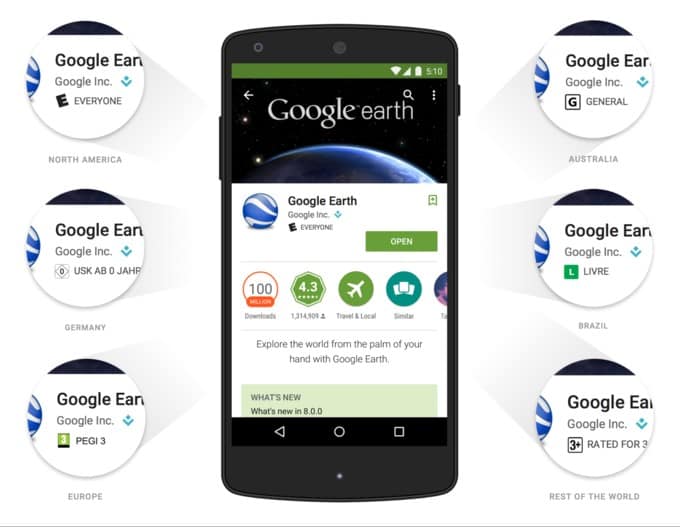 As seen on the image above, bellow the App Publisher a line of text has been added showing the appropriate rating system for your country. Developers aren't forced to take the survey that will rate their app's content, so some apps might have it while others won't. Lets take a closer look at the different age-rating organizations:
(North America) – Entertainment Software Rating Board (ESRB): Can range from C (early childhood) to A (adults only 18+) 
(Europe) – Pan-European Game Information (PEGI): Can range from PEGI 3 to PEGI 18
(Australia) – Australian Classification Board: Can range from G (General) to X (Restricted to 18 over) 
(Germany) – Unterhaltungssoftware Selbstkontrolle (USK): Can range from 6 to 18 
(Brasil) – Classificação Indicativa (ClassInd): Can range from L to 18 
Hello, my name is Niels Bosch
and i am the founder of AmongTech. Currently living in the South of Spain. My main interests are web development, playing video games once in a while, Apple, Marketing and SEO. I am currently studying Business administration, Networking & Security and Database management and will be doing so for the next year.