Google's latest version of Android 4.4 Kit Kat was previously rumored to be called Key Lime Pie. A user that has recently purchased a Nexus 5 posted on XDA Developer forum a screenshot claiming that that he's recently purchased Nexus 5 device has some different information in its "about phone" section, where instead of showing Android Kit Kat 4.4 it shows Key Lime Pie version 5.0.
The user says that its Nexus 5 device came pre-installed with Android Key Lime Pie and also states that he isn't very happy with the version:
Its horrible its laggy buggy and everything force closes i was lucky i got a screen shot in.
The previous version was first rumored to be called Key Lime Pie but the fact that it says Version 5.0 could meant that the upcoming version of Android will be called Key Lime Pie. Here is the screenshot: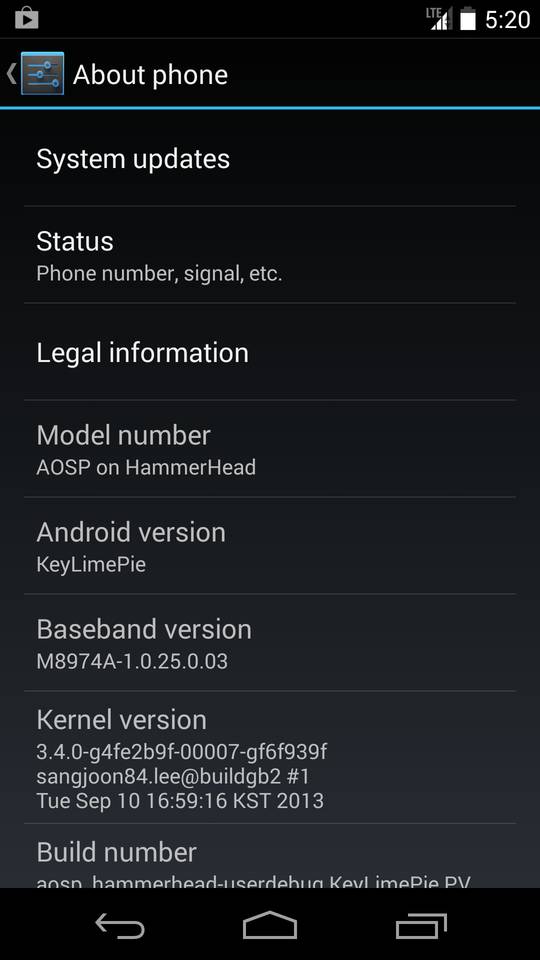 Update: There seems to be some doubt about the legitimency of this, the first time you boot your nexus 5 device it asked for an immediate update, this was pulled from the shipping ROM (what was on the device before getting updated) Source
ro.build.id=KQS81M
ro.build.display.id=KQS81M
ro.build.version.incremental=860733
ro.build.version.sdk=18
ro.build.version.codename=KeyLimePie
ro.build.version.release=KeyLimePie
ro.build.date=Mon Oct  7 18:55:31 UTC 2013
ro.build.date.utc=1381172131
ro.build.type=user
ro.build.user=android-build
 Update 2: We are currently investigating a little more on the legitimacy of the image from XDA Developer forums. Right now we will mark the image as FAKE, until we find more prove.