People who don't own some form of an Apple related product are probably wondering what AppleCare is. Well AppleCare is the name for Apple's extended warranty for their products. For the first year when you buy one of their products you will always get a warranty, but at the same time you can choose whether you can to buy the AppleCare package as well. This extends your warranty for an extra two years for an iPhone, iPad or iPod Touch, and three years for any Mac products. So basically you get a three year warranty instead of just one, although the one year does depend on the situation and how your device was damaged.
This is Apple's official description of their service:
"The AppleCare Protection Plan provides up to three years of additional hardware service options, both parts and labor, from Apple-authorised technicians around the world — perfect whether you work at a desk or travel with your Mac"
Along with the extended warranty you're also provided with their technical phone support, which again for up to three years you'll get a direct, one stop access to Apple's award winning phone support. This is a feature that very much overlooked and could become very useful when you have no one to turn too, especially when you need help with something software related.
See more: iPhone 6 to be 0.22inches thin and features A8 processor at 2.6GHz
Now you're probably wondering how much is all of this going to cost me. Well it varies between devices, typically it costs more for an iMac compared to say an iPod, so the more expensive the device, the more AppleCare is going to cost: Here are the typical prices for AppleCare:
iPad – $115 (£69/€83)
MacBook Pro – $465 (£297/€355)
MacBook Air – $330 (£199/€240)
iPhone – $ 100 (£61/€72)
iMac – $230 (£139/€165)
But the question is, do I really need AppleCare? And whether the extended warranty and phone support are worth it. Not everyone is going to use the phone support, because some people are going to want to find solutions to problems and fix them on their own. But if you don't have this level of experience you'll find the phone service to be reassuring as you have someone with the knowledge who can guide you every step of the way.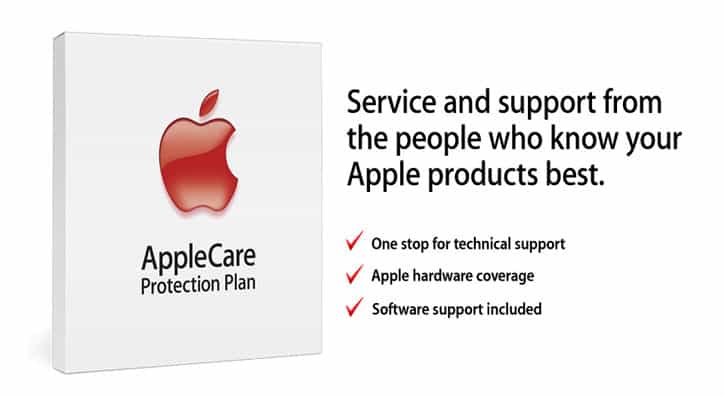 The extended warranty is another thing as well. It's also worth noting that you should research your countries laws when it comes to warranties and other related stuff. For example under UK law, consumers have up to six years from the date of delivery to exercise their rights, but various factors may impact your eligibility. So you should be able to ask Apple for a free repair for up to six years, although Apple doesn't have to actually repair it, depending on those "factors". But if you're clumsy and are prone to breaking your device often, then the warranty is a good idea, considering how expensive their products are in the first place, and you don't want to be shelling out another $800.
Now I'll leave you with an Apple related warrenty story of my own. Last year the volume buttons on the side of my iPhone 5 weren't working for whatever reason, so I took it too my local Apple store and asked the "Geniuses" to take a look. The guy looked at it for about ten seconds, quickly backed all my stuff up, then restored it. At that point I was wondering what he was doing and hoping it would now work, then a few seconds later a woman came out, handed him a new iPhone, sealed in its box, he gave it to me and said 'Thanks for coming' and then we walked out. So from my experience, AppleCare is definitely worth having, but don't count on that happening to you every time though.