Apple has just released iOS 8 beta 3 to developers several weeks after it released Beta 2 which mainly brought bug fixes. The update is available to developer which currently have iOS 8 on their device, the final version of iOS 8 is expected to release later this fall, the build number of this update is: 12A4318c. This is an email sent out to all developers: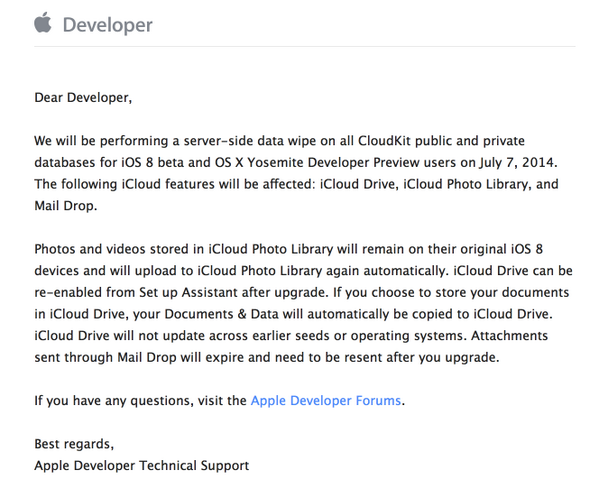 It was previously already rumored that the update would come out either July 7 or July 8, it seems that the rumors were accurate. Here is a full list of changes made in the update:
This post is still under development, please refresh this post to reveal new information… [we are still looking for changes in the update, if you find any, make sure to leave a comment]
New iCloud Drive. When you power on your device it will ask you if you want to start using iCloud Drive
BETA Update for Find my iPhone and Find My Friends also available
Fixed a ton of bugs causing app crashes

WhatsApp still doesn't work in Beta 3

Small improvements and UI changes have been made to the Weather app
New Wallpapers are now available 
New feature called "Handoff" that allows you to "continue apps to and from all your icloud devices" 
New sharing options in pictures that allows you to easily share moments 
New Setting called "Quicktime"
You can now automatically save all incoming media via iMessage on your device with a simple option.
Number dictation (number keypad)
New Search feature in iPhotos (allowing you to search by moment or date)
New Animations
Now FaceTime call history can filter video call and voice calls
Playlists sizes are now shorter.
QuickType now has a little bar to access it.
New WIFI feature called "Wifi Calling" which allows you to make phone calls using your Mac running Yosemite 
YouTube/video in third party apps seems to work again.
Slight changes made to the "Clear" tab in the notification tab
Redesigned app store 
Hello, my name is Niels Bosch
and i am the founder of AmongTech. Currently living in the South of Spain. My main interests are web development, playing video games once in a while, Apple, Marketing and SEO. I am currently studying Business administration, Networking & Security and Database management and will be doing so for the next year.