A minor bug is affecting many Galaxy S6 users. The bug causes the Enhanced Features terms and conditions popup to reappear every several minutes, opening it self again even when canceled. The Enhanced Features feature lets you push large files and profile information to your contacts but this does mean that you have to share sensitive information with Samsung like your phone number, messages, and contacts.
When users press "Decline" the popup seams to reappear every few minutes, making it impossible to get rid of unless you accept to the terms. Most users affected by this bug seem to have the T-Mobile Galaxy S6 Edge. Those who have the AT&T version are in luck as Simple Sharing isn't available to them.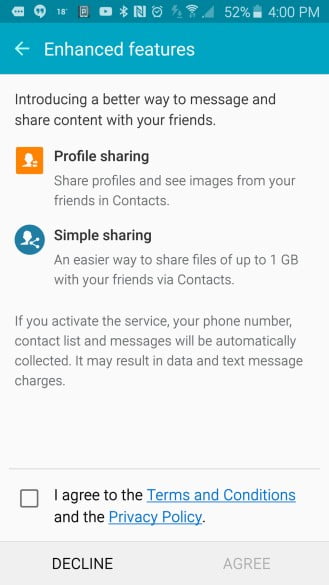 How to Disable Enhanced Features Popup Galaxy S6
Robert Ray has posted a possible solution to Google Plus that seems to be working for most users. You can follow the steps bellow to Disable enhanced Features popup on the Galaxy S6 and Galaxy S6 Edge:
Open up your Contacts app
open your own profile (at the top)
Shut Off Profile Sharing
On affected phones, the phone seems to hang trying to disable the feature.
Under Registered Information, you can  deregister your number from profile sharing
Hello, my name is Niels Bosch
and i am the founder of AmongTech. Currently living in the South of Spain. My main interests are web development, playing video games once in a while, Apple, Marketing and SEO. I am currently studying Business administration, Networking & Security and Database management and will be doing so for the next year.