The Syrian Electronic Army has hacked Skype, the instant messaging and voice/video calling service owned by technology giant Microsoft. It left a message on the official Skype Blog saying "Hacked by Syrian Electronic Army.. Stop Spying!". The Syrian Electronic Army is a hackers group supported by the president of Syria well known for its hacking facebook, the new york times website, the huffington post and Twitter. Here is the message the SEA left on the official Skype blog: The SEA has also hacked the official Skype twitter account and tweeted out the following tweet: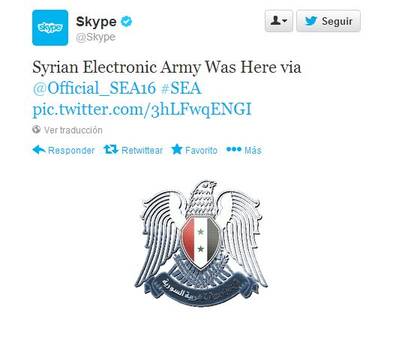 As of now no official explanation has been given on why the SEA has hacked Skype, but we suspect it is because of previous leaked stories regarding Microsoft using Skype to spy on users conversations, ArsTechnica did an experiment where they send a private link to user through a skype conversation. The user who received the URL didn't open it but after waiting for some time the URL got accessed from a different machine to which the URL wasn't originally send to. The following IP 65.52.100.214 which belongs to Microsoft accessed the URL. Previous documents leaked by Edward Snowden also show that Skype has a backdoor for the NSA the document leaked indicates that calls may be monitored as easily as an old-fashioned phone call, we suspect that these documents are also reason to why the SEA hacked Skype.
Update 1: It appears like they have also hacked the official Facebook account warning users on not using Hotmail or Outlook since "They are monitoring your accounts and selling it to the governments."
Update 2: It seems like the Facebook post has been deleted however the tweets and blog post still stand.
Update 3: We have reached out to Skype to try and find out what is going on, as of now we haven't heard back from them. We expect to hear more about the hack from the SEA soon.
Update 4: It appears that Skype has got everything back in hands since it has deleted the tweets, facebook post and blog post.