Developers can choose to ask money for their app listed in the Play Store and while most apps have a fair price, some developers ask too much money for their app. If you simply wish to try an app before you purchase it but there is no free version available there are different methods to Download play store apps for free but most of them require you to install dangerous apps or root your device and with it remove its warranty.
We have found 3 legal methods that require no hacks or to root your device. The Play Store app free download methods are each explained bellow. You can use all three methods to get more free apps from the Play Store.
Play Store app free download Trick – 3 Methods to download play store apps for free
 Method 1 – Google Play Return Policy
Google has a return policy for Play Store purchases. This means that any purchase made can be reversed even several hours after purchasing it. You can use these hours to try out the app and discover if it is truly worth it or if you rather not pay for it. You can access the Return Policy menu follow the steps bellow:
Open the Play Store app
From the Menu navigate to your Account
Select the app you wish to receive a refund for
Click "Return" > "Refund"
Follow the on screen instructions.
Method 2 – Play Store Surveys
Google has a great reward system for Play Store users. By completing surveys, users can receive free discounts, app promotions, free apps but most of the time Play Store Credit which you can spend on purchasing any app you like.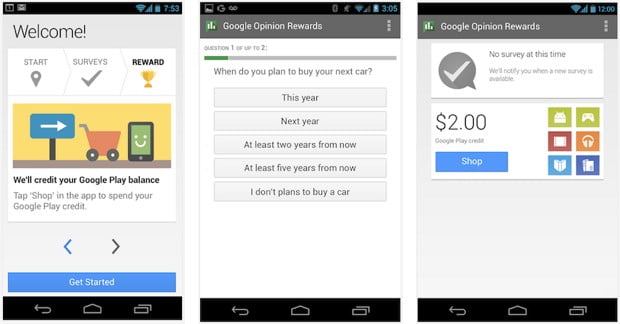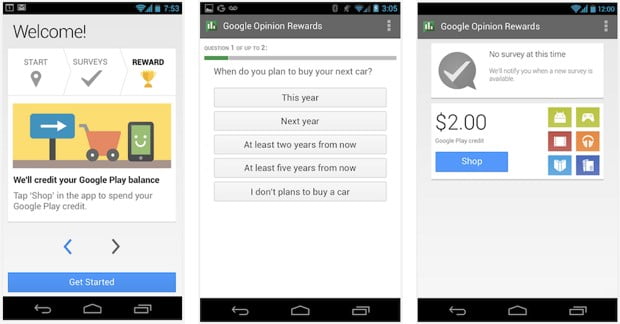 If you want to start participating in surveys, you can follow the steps bellow to do so:
 Download Google Opinion Rewards
Log into your account
Select the surveys you wish to complete
Keep doing so until the "Google Play Credit" hits the desired amount
Method 3 – Using alternative app stores
Using other app stores are also a good way to make use of free offers some of them have available. I mainly mean the Amazon App Store which has weekly rewards and almost daily giveaways. It recently did a $100 worth of apps giveaway. Follow the steps bellow to take advantage of these discounts and giveaways:
Download and install the Amazon App Store app
Log into your Amazon account
Head over to the Amazon homepage here
Or directly in the app look for the "Today's free app of the day"
You can check out our list of Play Store alternatives to find more app stores with daily promotions.