One of the first things many of us do when we get a new smartphone is to personalize it – greetings, wallpapers, ring tones and all the fun stuff.  But with a desktop computer, this can be overlooked, and we leave the default settings in place.  However, with a Mac computer, this doesn't need to be the case with the wallpaper on your screen thanks to a clever new app called Wallpaper Wizard.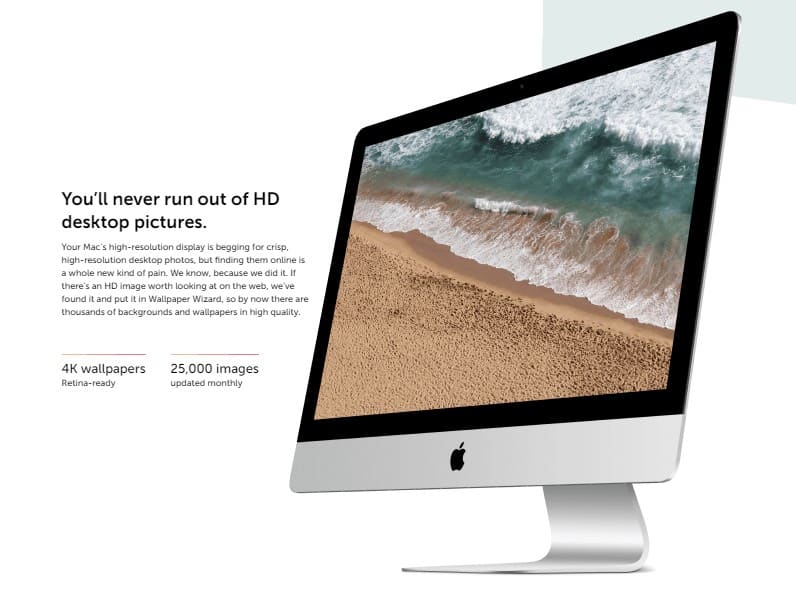 How the app works
We have all had the experience of finding a photo we would love as a wallpaper but isn't high enough quality and looked pixelated and terrible.  One of the benefits of Wallpaper Wizard is that it has a database of over 25,000 images that are refreshed every month.  All of the pictures are ready to be used as a wallpaper for a Mac computer, even on the largest screen sizes.
It is also easy to find photos within the app as there are categories and also the ability to search by keywords.  So look at the beach and ocean collection for that calming view of the waves hitting the beach.  Or do a search for a forest road for that relaxing natural view.  Even search for your favorite color or even a location around the world to see what the collect holds for you.
You can also easily organize the photos that you like as you search.  With Favorites, you can save the ones you like best into a collection and easily find them at a later date when you want to use them.
Wallpaper Wizard benefits
Wallpaper Wizard offers HD 4K quality images that work with the latest Retina display screens.  This means no stretched or poor-quality images, regardless of your screen size.  You can also use the app when you work on multiple displays – have the same wallpaper on all or set different backgrounds for each one.  This can even include a connected MacBook Air when it is integrated with your desktop computer.
You can automatically access the photos from within your Roll on the Mac so there's no need to constantly be loading the app.  And you can even set the app to automatically change your screen on a set or random basis to ensure that you always have a fresh look to your screen.  Change them every week, every day or even every hour if you want to.
Get the app through Setapp
Sometimes finding the app you want can be a complex process with the millions of apps available on the App Store.  But now, you can easily find Wallpaper Wizard and a selection of other apps on a new dedicated website called Setapp.
The site offers hand-picked apps that are effective, fun and easy to use.  Easily select the right app for the job or search through the top-quality apps on offer to find something that solves a problem you may never have realized you had.  The site offers a free one-month trail to use and even lets you compare prices and reviews of paid apps to make an informed decision.