If you own a Samsung device you might have seen a small feature called Multi-Window pop up somewhere in the settings menu. Samsung Multi-Window is a feature available on several Samsung devices among them is the Galaxy S5 that will allow you to multitask and use several apps at once by dividing the screen. Lets take a look at how to activate it and how to make the most out of it.
How to use Samsung Multi-Window on the Galaxy S5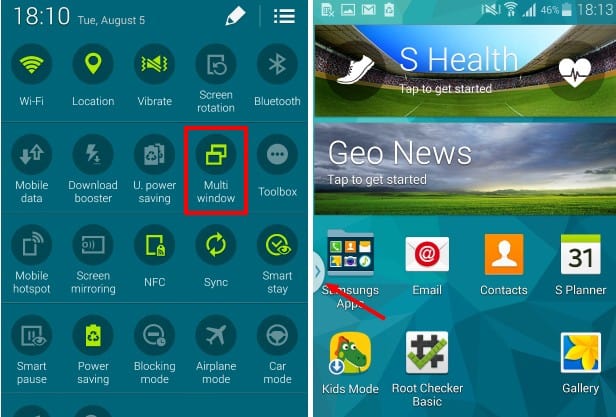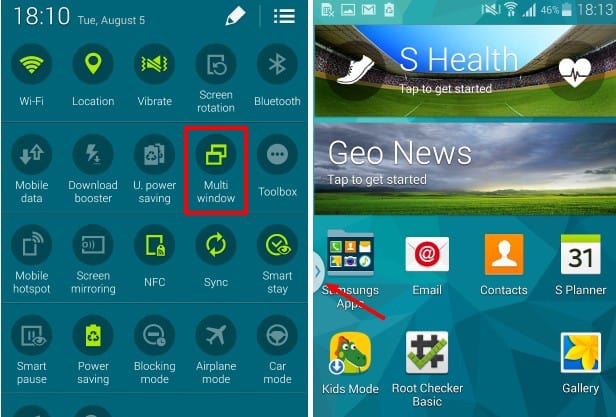 First of all we are going to activate it, this can be done by dragging two fingers from the top of the screen to the bottom to access the pull down menu. Look for the option called "Multi Window" and tap it. Once made available, a small arrow should appear on the left side of your screen (as seen on the image above).
If you pull the arrow, a small menu will become available that will show some apps, the apps displayed are apps that are compatible with Samsung Multi Window and tapping on any of them will split your screen in 2 showing on app on one side and another app on the other side of the screen. You can use the small Dot on the line that separates them to change the aspect ratio.
Compatible Samsung Multi Window apps
Like mentioned before, pulling the arrow on the left will show a menu of apps. There are currently several hundred compatible apps we will only list the most popular ones bellow:
Blackberry mesenger
Chrome
Youtube
iHeart Radio
Twitter
Facebook
WordPress
Dolphin Browser
Gmail
Hangouts
WhatsApp
WeChat
Kindle