Excited you just found out there's a prequel to the amazing Harry Potter movies? Nice – Fantastic Beasts and Where to Find Them might be a spin-off, but it's every bit as fun and interesting as the Harry Potter series.
But are you able to watch it on Netflix like the rest of the Harry Potter movies?
You can, but there is a catch (for some of you, at least) – you can only watch this movie in a few countries. It's not available worldwide (like Netflix is).
Unfortunately, we can't offer you a list of the countries that have this title. But we can do the next best thing – tell you how to find out which regions have it, and show you how to unblock it to boot!
How to Find Out Where You Can Watch Fantastic Beasts and Where to Find Them on Netflix
The easiest thing you can do is use StreamCatcher, the Netflix tool. Developed by ProPrivacy, it's an online service that lets you check the availability of Netflix titles.
It won't give you a list of all the countries where this movie is available, so don't expect to see 50-60 or more locations. But this tool will show you various regions the devs tested to confirm that you can watch the movie there. You basically get quality over quantity.
With that in mind, let's see where StreamCatcher says we can watch Fantastic Beasts and Where to Find Them.
According to the results, you can watch it in South Korea, Brazil, and Argentina.
If you happen to know other countries where this movie is available, please let us know in the comments.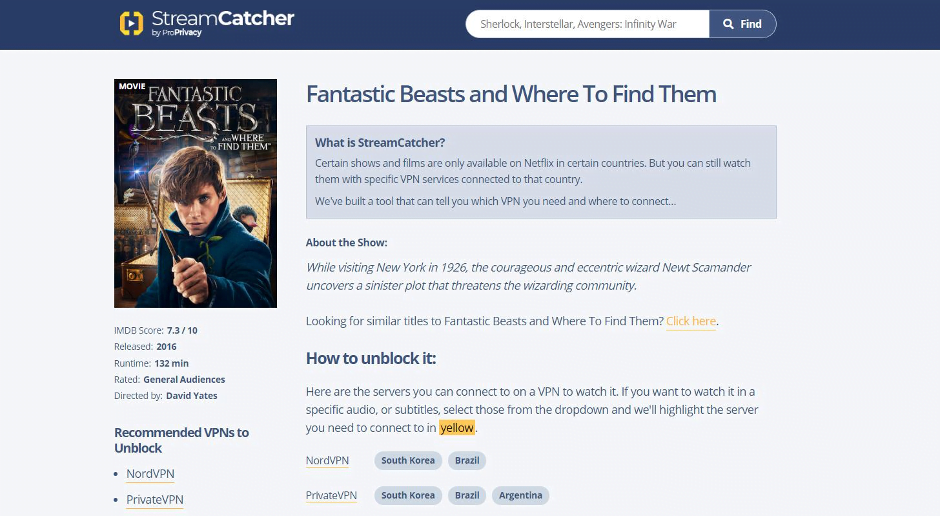 How to Unblock Fantastic Beasts and Where to Find Them Anywhere in the World
We tried different unblocking methods, and can honestly say we got the best results when we used VPNs. They're online services that prevent Netflix from seeing your IP address. If the site doesn't see it, it can't tell what country you are from (meaning its geo-blocks won't trigger).
Using a VPN is very simple – you just subscribe, download the right app for your device (iOS app for iPhone, for example), install and run it, and use it to connect to a VPN server. In less than a minute or two, you'll be able to watch Fantastic Beasts and Where to Find Them in any country!
To prove our claims, here's a screenshot of us watching the movie while using a South Korean server from NordVPN: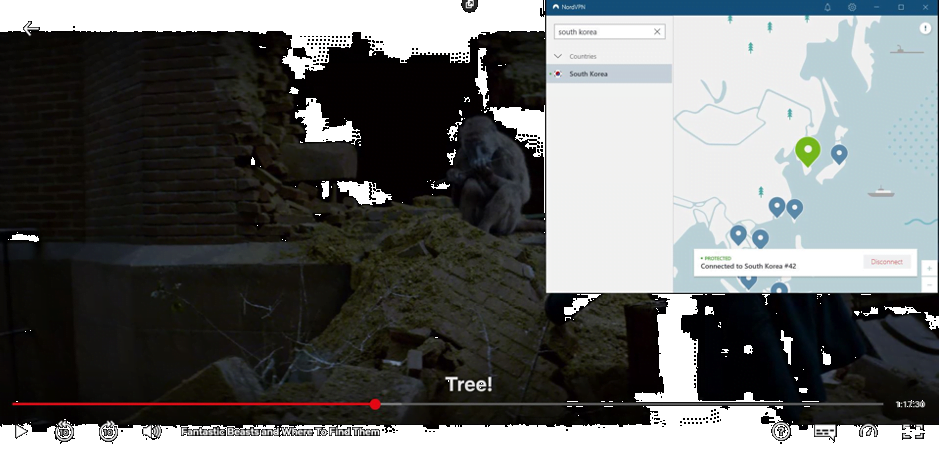 We also tested Brazilian and Argentinian servers, and they worked well too. We didn't watch the movies three times in a row with each server, but we did split our viewing time: about 40-41 minutes on each server. We didn't experience any issues, and never saw the Netflix proxy error once.
Which VPN Should You Use to Watch Fantastic Beasts and Where to Find Them?
For our tests, we used NordVPN. It has very fast speeds (came in first in this report), no bandwidth caps, easy-to-use apps for most platforms, and awesome security features.
If you'd like to check out other providers, you can also try:
Surfshark – It offers all the streaming advantages of NordVPN, plus it supports unlimited parallel connections. That means you can use Surfshark on as many devices as you want.
PrivateVPN – Offers great streaming, up to 10 simultaneous connections, and low pricing compared to most top providers.
ExpressVPN–The same streaming perks like the other VPNs + their own proprietary protocol called Lightway. It's extremely fast and connects to servers in a fraction of a second.
Can You Use Free VPNs to Watch Fantastic Beasts and Where to Find Them?
You can, but we can't say how efficient they are. Netflix has an aggressive VPN detection and blocking system in place. To bypass it, VPN providers need to refresh their IP addresses very often. Doing that costs a lot of money, though, so you can see the problem, right? Free VPNs don't exactly have a sustainable business model that allows them to do that.
Some free VPNs might let you unblock this movie, but you might experience intermittent access. For example, you might randomly get the Netflix proxy error in the middle of the movie.
Also, if you use a random free VPN off the app store, you'll very likely have to deal with annoyingly slow speeds, bandwidth caps, a poor and buggy UI, pretty much no support, ads, and malware infections.
If you use free subscriptions from paid VPNs, they're safer. However, you'll still have to deal with slower speeds, data caps, and intermittent access (they likely don't refresh the IPs for their free servers so often).
All in all, you're better off using a paid VPN. Most of the providers we mentioned in the previous section aren't even that expensive if you get a long-term plan. You can usually expect to pay somewhere around $50-$60 per year.
Why Is Fantastic Beasts and Where to Find Them Only Available in a Few Countries?
We can't say for sure, but it's likely that Netflix only bought licensing rights for those regions. Due to that, the company isn't legally allowed to stream the movie worldwide.
Regarding why Netflix didn't get global rights, there are two options:
They weren't for sale (other competitors already bought the rights to other countries).
It wouldn't be a profitable investment for Netflix.
The Bottom Line
You can watch Fantastic Beasts and Where to Find Them on Netflix, but only in a few countries. Licensing agreements force Netflix to limit access to the movie based on your geo-location. To bypass that issue, just use a VPN.
If you know other unblocking methods that work well, though, please mention them in the comments.