Google has been making unlocking your device much easier, first introducing trusted devices and trusted places allowing you to easily unlock your device if you are at a certain location. Now Google has introduced a new way of unlocking your device called Smart Lock Mode.
Lets explain a little more in-depth about what Smart Lock Mode is, How to enable Smart Lock Mode and how the on-body detection works.
What is Smart Lock Mode?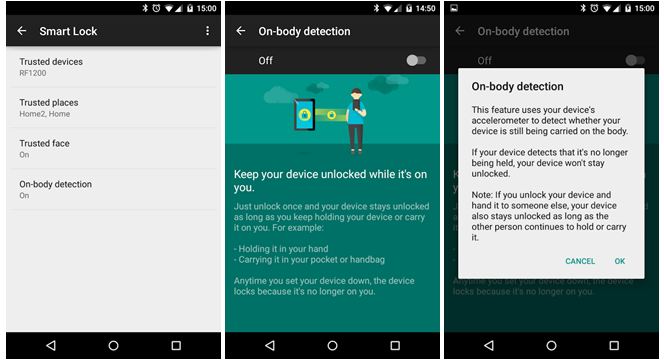 Smart Lock Mode is yet another way Google tries to ensure that data and any other sensitive information is kept secure should the device end up lost or stolen. Currently, the only real secure way is using a Screen Lock (a pattern which will have to be filled in every time you want to access your device) but after a time it might get annoying having to keep using the same pattern, that is why Google has introduced Trusted Devices, Trusted Places and now Smart Lock Mode.
How does Smart Lock Mode use On-Body Detection?
Smart Lock Mode uses your accelerometer to figure out when your device is in your hand or pocket, and lock when it's not. This means that while its on you, it will be unlocked but if you leave it on a table it will automatically lock it self, preventing any thief's or friends from accessing your device (and possibly getting you killed on Clash of Clans)
How to enable Smart Lock Mode on Android
While the feature has been made available, it hasn't been officially announced yet so it is unclear exactly on what devices it is available. It appears to be that most Nexus devices running Android 5.0.1 Lollipop or above seem to have the feature. Here is how to enable Smart Lock Mode:
Head over to Settings
Set a Lock Screen for your device
Head over to Smart Lock
Enable "On-Body Detection"
Unlock your device once and it will stay unlocked as long as you carry it with you
If your device is set down, it will  lock it self and will have to be unlocked again once picked up.