The days of complex, flash-heavy websites with lots of movement, color, and action are behind us. Today's highest converting websites are much simpler. While some might call them bare-boned, we prefer to use the term "clean."
Clean website design has been on the rise for most of the last decade and doesn't appear to be going away anytime soon. As digital distractions, clutter, and confusion grow, the power of clean website design continues to shine through. And if you're considering a website launch or redesign, you'd do well to make it clean, too. 
What is a Clean Website?
At the very core, a clean website is simple, organized, and frictionless. It's intended to provide a pleasing user experience (UX) by stripping away the excess and focusing on what matters most.
Quality over quantity is the mantra of clean website design. Busy elements give way to simplicity. Yet at the same time, there's little-to-no drop-off in functionality. The goal isn't so much to strip a website down as it is to clean up its appearance and make it lightweight. Another phrase for clean website design is minimalist website design.
Tips for Clean Web Design
Don't let the simple appearances fool you – designing a clean website is more challenging than it appears. But with the right approach, you can turn any website into a frictionless destination. Here are some suggestions:
Hire a professional. If you've never designed a clean website before, be prepared to face many distinct challenges. We're not saying you can't do it – but consider whether it's worth your time. Hiring a custom website developer might be a better use of your resources.
White space is your friend. If there's one defining characteristic of clean website design, it's the use of white space (also known as negative space). White space is basically the absence of elements. It's a blank background that emphasizes the presence of other elements. And while it might be boring – it's a good kind of boring.
White space gives the user room to breathe. It drives focus and energy to the elements that matter without actually taking away from them. And though it's typically white, negative space can technically be comprised of any neutral color (such as gray, black, or beige).
If you're looking for guidance on how much white space to include in your design, the 60-30-10 rule is a good place to start. It suggests that 60 percent of the page's color should be neutral (i.e. white space), while 30 percent should be a complementary color. The final 10 percent of the page's color scheme is for the accent color.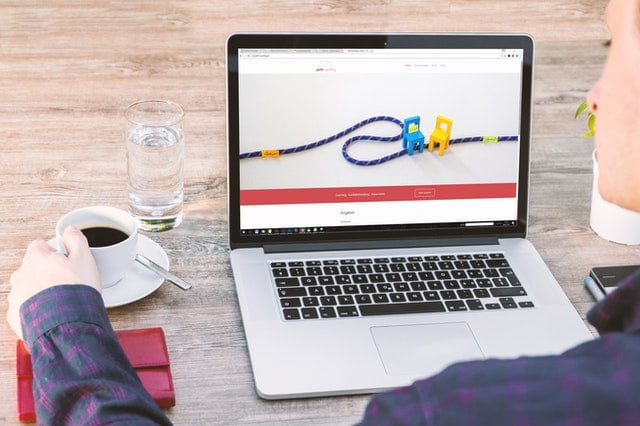 Show instead of tell. The more you say on your website, the less people will understand. That may sound paradoxical, but it's true. Less is more with website design. An over-reliance on textual content will leave your website feeling heavy and bloated. As a general rule of thumb, always show instead of tell.
The notion that a picture is worth a thousand words couldn't be more true in website design. For example, a clean, high-resolution image of your team says far more about your workplace culture than a 1,000-word blog post on why people love working for your company. Likewise, a simple picture of your product being used by a customer does far more than a long-winded description. The more reliant you become on visuals, the less crowded your website will feel.  
Be intentional with typography. Fonts are often giving secondary importance to other design elements, but be wary of skipping over this aspect. Good typography can make a huge difference. 
When choosing fonts, you want something simple, clean, and legible. Never use more than one or two typefaces on your website. Color, size, and weight can be used to create a clear typographic hierarchy.
Ensure intuitive navigation. Your website is not a collection of individual pages. It's a symbiotic digital experience. Smooth navigation from one page to the next is a must. The flow should be simple, effortless, and intuitive. If possible, use fewer tabs and dropdown menus, as they do nothing but confuse visitors.
Adding it All Up
Whether you're in the process of launching a brand new website or you're thinking about giving an existing website a makeover, clean website design is the answer. It doesn't matter if you're selling physical goods, digital products, services, or content – cleaner is always better!