Building a personal brand is difficult for everyone, but women entrepreneurs face unique challenges because of gender stereotypes. It is possible to overcome these challenges, but it takes a lot of time and careful messaging to be successful. Here are three tactics female entrepreneurs can use to build a brand and share that message with other professionals.
Be Your Authentic Self
Your brand is a reflection of who you are. This means you need to show what you believe and what you stand for. Create a list of everything you know and everything you do well so that you can be consistent in your messaging and stay authentic. As you show your unique personality, people will relate to your message. This is what building a personal brand is all about.
As a woman entrepreneur, you need to show you are an expert in your field and embrace everything that makes you stand out. To overcome the gender stereotype, you need to show that you are bold and confident and that you can hold your own in the business world. It's fine to show vulnerability as long as this is what makes you relatable.
Participate in Speaking Engagements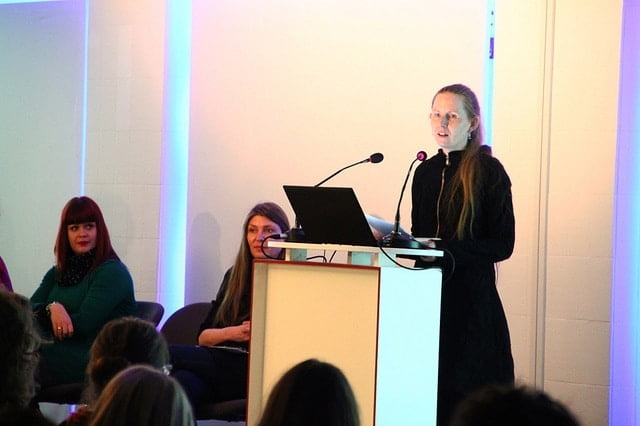 If you're trying to build a personal brand, speaking on a regular basis is a must. This is one important way to show what you know and serve your audience in a more personal way. People may criticize you for being a woman or disagree with your message, but make sure you always show your confidence by thanking others for their opinions and then standing your ground.
Speaking engagements offer value to your personal brand, but you need practice to prepare yourself for interacting with live audiences. When you're ready to participate in speaking engagements, your personal brand can move to the next level.
Contribute Expert Articles in Your Industry
Another way to show your expertise and build your personal brand is by contributing expert articles to publications within your industry. When people first hear about your brand, they often turn to the Internet to see what they can find out about you. Meet them with a slew of expert articles and really take this as an opportunity to show what makes you stand out. Your online presence will grow and your personal brand will benefit.
In addition to expert articles, be open to interviews and any other activities that will help put you in the spotlight, such as personal brand videos. Many women used to use aliases to conceal their gender and never participate in interviews. This is no longer necessary, but showing you are an expert is. It doesn't matter whether you are a man or a woman if you have no authority in your industry, people won't care about you.
As you work on building your personal brand, look for opportunities to showcase yourself. The ideas in this article will help, but you're not going to get anywhere as a woman if you wait for things to fall in your lap. Be proactive and show your confidence and expertise. It's the only way to break free of gender stereotypes and build a successful brand.