Samsung is going head to head with Apple as it recently announced its new payment service Samsung Pay. Since its launch, Apple Pay has been a huge success as it represents 1.7% of all mobile payments just a few weeks after its launch. Samsung is trying to introduce a similar service (and hopefully just as successful) with Samsung Pay.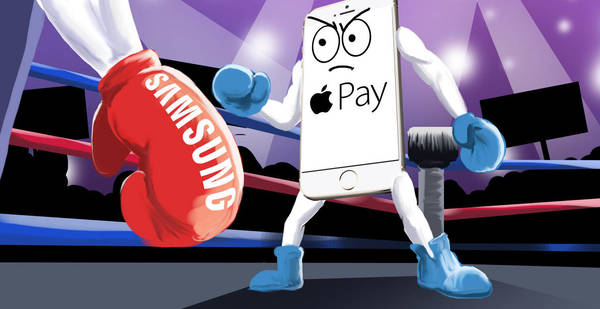 Apple Pay vs Samsung Pay: Supported Banks
According to Samsung during its MWC 2015 Conference the following banks support Samsung Pay:
American Express
Bank of America
JP Morgan Chase.
The following Banks support Apple Pay:
JP Morgan Chase
Bank of America
Citigroup
USAA
Navy Federal Credit Union
PNC
 Apple Pay vs Samsung Pay: Confirmed Retail Stores
Samsung Pay uses a different technology then Apple Pay called LoopPay. With LoopPay uses a tiny metal coil to generate a magnetic current to the credit card reader, unlike NFC, which requires to you tap a device against a specific compatible sensor. This means that you can use Samsung Pay with any Credit Card Reader of which are accepted at more then 10.000.000 locations in the US.

We previously made a post covering all big retail and fast food stores in the US that accept Apple Pay, you can check out the list here
Apple Pay vs Samsung Pay: Technology used
Apple Pay makes use of NFC which can be found in the iPhone 6 Plus and iPhone 6. NFC is a widely used technology to make mobile payments still, Retail stores have to be equipped with Apple Pay in order to make advantage of Apple's mobile payment service. Apple does have a new technology called Secure Element. Your Device Account Number and credit card information is assigned, encrypted, and securely stored in the Secure Element, a dedicated chip in the iPhone.
Samsung Pay on the other hand makes use of a very different technology as mentioned earlier called LoopPay. Samsung Pay supported devices are being equipped with NFC (like the technology used by Apple Pay) and MST which is used by LoopPay. This doesn't only allow you to use NFC technology but also directly pay with your phone from any store that has a credit card reader.
Apple Pay vs Samsung Pay: Supported Devices
Both Apple and Samsung have a very limited amount of devices that support their mobile payment system. New technologies have to be included in order to make use of them and not all of their older models have them. Bellow is a list of each manufacturer and its supported devices:
Apple
iPhone 6
iPhone 6 Plus
Apple Watch
Samsung
While Samsung has fewer devices than Apple, they will bring support to older devices so they can use Samsung Pay with NFC (not with LoopPay).