For some time now it has been rumored that Apple's next keynote was going to be on October 22 but "sources familiar with Apple's plans" have just confirmed to AllThingsD that Apple's next keynote will take place on October 22 Apple will be holding a keynote at starting at at 10 a.m. PT/ 1 p.m. ET.
At this keynote we expect Apple to reveal the new iPad 5th generation, coming with a new design, touch ID home button and the option to choose the color "Gold" for it. We also hope to see a improved A7 processor in the new iPad and a 8 megapixel camera. As far as the iPad mini 2 goes it will most likely also come in gold with the Touch ID home button and feature Apple's Retina Display.
As of now we don't know a specific location of where the keynote will take place, but we expect to soon hear the official announcement from Apple. I guess now all we can do is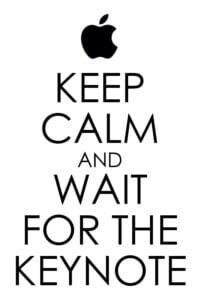 Update:
Apple has officially confirmed that the keynote will take place on October 22
Update 2: We will live stream the event, please reload the page at at 10 a.m. PT/ 1 p.m. ET and the livestream should appear.
Update 3: Apple seems to be having issues with its livestream. The stream will be on the website as soon as it starts working.
[Due to some technical issues we are unable to show the stream. In meanwhile the guys at CNET are covering the event Live]
Hello, my name is Niels Bosch
and i am the founder of AmongTech. Currently living in the South of Spain. My main interests are web development, playing video games once in a while, Apple, Marketing and SEO. I am currently studying Business administration, Networking & Security and Database management and will be doing so for the next year.