If you are looking for rugged adventure and dramatic natural beauty then look no further than Wrangell-St. Elias National Park in Alaska, the largest National Park in the US! 
An enormous stretch of wilderness on a scale that is only possible in the last frontier of Alaska, Wrangell-St. Elias spreads over an extraordinary 13.2 million acres, taking in everything from sea level to towering peaks of over 18,000 feet. A single National Park, it is the same size as Yellowstone, Yosemite, and the entire country of Switzerland combined!
It is hard to do justice to this extraordinary landscape, and it really does have to be seen to be believed. With glaciers, mountain ranges, river valleys, and volcanoes, the countryside is alive in a way that is unique in North American National Parks. 
So if you are thinking about the best time to visit Alaska and looking for an adventure with a bit of a difference, take a look at the best bits of Wrangell-St. Elias National Park and discover something truly remarkable.
The McCarthy Road
Many visitors to Alaska say that driving the spectacular McCarthy Road is THE highlight of their trip to the state. The three-hour adventure follows the route of an old railroad through dark pine forests along gravel roads. The main attractions, leaving aside the stunning landscape that forms the backdrop of this road trip, are the wildlife you'll see along the way. From grizzlies and black bears to moose, eagles, and owls, it is a nature lover's dream.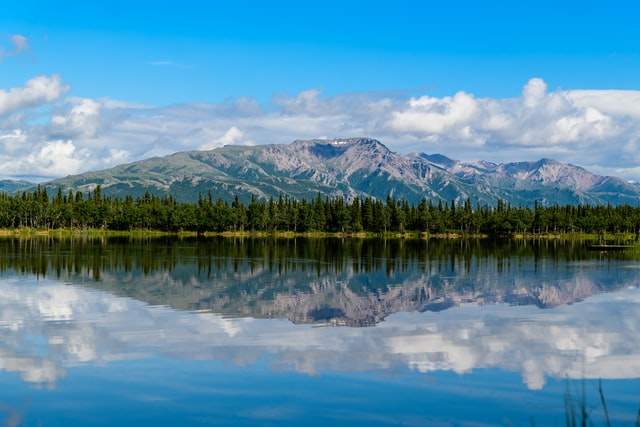 Kennicott Ghost Town
A remarkable spot, home to the spooky Kennicott Mine, this ghost town is only accessible by the McCarthy Road or by air taxi from Chitina. The abandoned community formed around the mine when it opened in 1903, only to be deserted when it closed in 1938! Explore the fascinating historic buildings and see for yourself how Alaskan pioneers began taming the landscape in the early 20th century.
Raft the Kennicott River
Grab a paddle and take an adrenaline-fuelled ride from the Kennicott Glacial Lake down the Kennicott River. A truly stunning, exciting experience that will immerse you (literally!) in the wilderness of Wrangell-St. Elias.
Hike the Root Glacier
Glaciers form a significant part of the Wrangell-St. Elias scenery, and no trip to this astounding National Park would be complete without getting up close and personal with one. Enjoy a day hike or go ice-climbing on the spectacular Root Glacier for a true Alaskan adventure – no previous experience required!