From transport to communication, health and relaxation, technology has drastically changed the world over the course of recent history. For those with disabilities, it's helped provide valuable support and enable access to a better quality of life. 
As part of the rise of digital health, there are countless apps out there that can remove some of the barriers people face every day. Below is a summary of some of the key areas in which apps can come in handy.  
Hearing aids
There are lots of apps available for people living with hearing difficulties. 
For entertainment, innovations such as Subtitle Viewer can show subtitles on your phone in real-time for TV programmes and films that don't offer them. Others such as Roger Voice and Relay UK enable quick, easy and accurate communication by transcribing phone calls into text.
Apps such as Google Live Transcribe can do a similar thing with conversations happening around you, be it in a cafe or lecture hall.  
Visual aids
Visual impairments can make many everyday tasks more difficult, especially for those who haven't lived with them since birth. 
Envision AI, Lookout by Google and Seeing AI are all apps that can help people understand their surroundings. Features vary from one to the next, but their capabilities include recognising and describing objects and faces, reading text, scanning barcodes and more.  
More advanced apps can even create 3D sound, connect people with volunteers by video call, and activate pedestrian crossing devices. 
Mental health
There's been a boom in relaxation and sleep apps in recent years as our mental health awareness continues to grow. They can help with challenges related to disabilities, as well as more general mental issues.  
Headspace and Calm offer guidance with meditation and mindfulness by day or night and can alleviate worries and distractions. MoodPanda meanwhile can track your mood and provide anonymous emotional support when you need it most.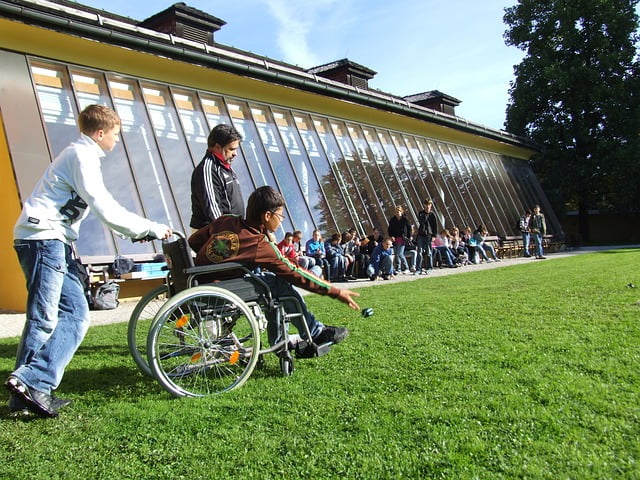 Getting around
Transport can be especially tricky for people with disabilities. Wheelchair accessible vehicles make getting in and out of cars easier, but what about actually navigating from A to B?
While not designed exclusively for disabled people, apps such as Google Maps can display accessible layouts of cities featuring ramps and elevators. 
Other apps such as Wheelmate and Wheelmap can help to identify accessible toilets, parking spaces, restaurants and public transport options in the surrounding area.  
Help around the home 
Smart home technology such as Amazon Echo and Google Home can help with a variety of practical and organisational tasks at home. Options range from controlling lighting, temperature and security from a smartphone or device, to setting alarms, organising calendars and starting calls via voice commands. 
Smart home technology varies greatly in functionality, compatibility and cost, so it's best to research before buying. 
Are there any areas of your life that an app could improve?