Pushbullet is one of the most popular apps currently available on Android (and one we love our selves) and in a recent update to version 15.3.2 a new feature has been added that makes it even more awesome.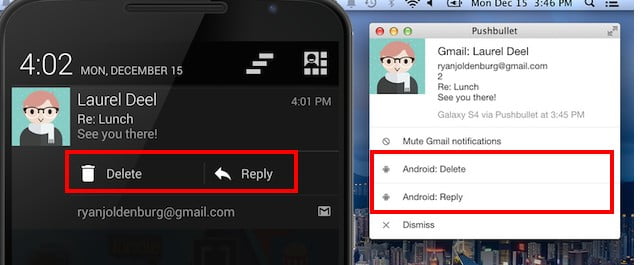 In Pushbullet 15.3.2 you now have "Quick Action Notifications" for Android allowing users on their PC or Mac to use on of the quick action options from a notification displayed on your Android device. For example: A Gmail notification gives you the ability to hit "Reply" on Android, this can now also be done from your PC. Here is a video from PushBullet explaining the new feature:
Pushbullet APK 15.3.2 Download
In order to start using this new feature you will have to install the update which is currently being rolled out OTA. If you can't wait you can also download it manually to have it right now by downloading the Pusbullet APK.
You can download (com.pushbullet.android)  Pushbullet 15.3.2 APK  with hash: 1574fb27645d8b4704acbf251786ef6c or check it out on the Play Store. Keep in mind that this requires Android 4.0 and up