The Best Tools For Fundraising With Online Auctions

The Internet has made it much easier for organizations to run fund raising campaigns. It is the perfect platform to promote campaigns, communicate with donors, and enhance awareness of your cause.
One of the most effective ways to raise money online is through an online auction. It involves participants placing bids on an auction item, with the highest bid purchasing the item. Unfortunately, while the premise sounds simple they can quite complicated to organize.
Online auctions can be made easier to manage by using software products like AuctionMaestro Pro and Raiser's Edge NXT. These products can help you quickly organize every aspect of your auctions including participants, winning bids, payments and donors.
This article will highlight some of the benefits of running online auctions before sharing the features of both programs.
The benefits of using an online auction to raise money
Here are a few of the benefits obtained when using online auction to raise money:
Software makes online auctions easy to manage
Modern software packages guide you through the entire process of setting up an auction. All you have to do is find products or services to list, add them to the application, then promote your auction.
Running an online auction is cost-effective
Traditional auctions would require a venue, table staff, ushers, entertainment and an auctioneer. Paying for these overheads could be quite expensive and they reduce the amount of money raised. Online auctions can be managed by a handful of people, leading to significant cost savings.
Online auctions can be organized quickly
Thanks to auction software and social media, it is simple to setup and promote an auction. The logistics are less complex without venues to book and staff to hire.
Consumers are familiar with the auction process
Most consumers are very familiar with websites like ebay.com and understand how the bidding process works. They enjoy bidding in auctions and keen to participate.
Online auctions raise the profile of your organization
An online auction can help raise awareness of your cause and increase the profile of your organization. People will visit your online auction explore the items on offer and share links with their friends.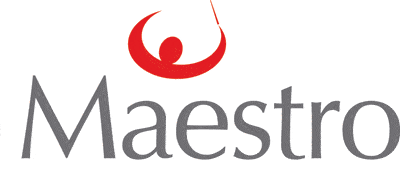 Key Features of AuctionMaestro Pro
Maestro Software is one of the leaders in the auction software market. Their flagship product, Auction Maestro Pro, is focussed on the running of both real-world and online auctions. It is a feature-packed application that walks users through the process of running an auction. Auction Maestro Pro integrates into The Raiser's Edge, the industry's leading fundraiser tool for the nonprofit sector. It is the only auction software to offer this integration.
The key features of AuctionMaestro Pro include:
Powerful contact management tools
These tools allow you to maintain a client database, invite guests to an auction, sell tickets, organize tables, print seating charts, set sponsorship levels and much more.
Auction catalogue creation
AuctionMaestro Pro has the ability to create a catalogue of the items being auctioned. There are many templates to choose from, allowing you to completely change the appearance of the catalogue. It can also print gift certificates and bid sheets.
Sponsor tracking
Sponsor tracking allows you to manage the people who have donated items for the auction. You can record contact details, the items being donated, and payment records. It even has an option for printing thank you letters.
Budget management
AuctionMaestro Pro has comprehensive budget management tools, which allow you to carefully track expenditure. It can also print up customized budget reports. Budget reports can be exported in a variety of formats including Word and PDF.
Schedule creation
The software can create a large "todo" list for auction preparation. As soon as you schedule a new auction event, it creates a timeline with all of the tasks that need to be performed.
Item tracking
The item tracking in AuctionMaestro Pro is quite advanced. You can track donors, item value, item category, storage location, how much space the item requires and much more.
Letter writing
AuctionMaestro Pro has an advanced letter writing feature, which makes it simple to write letters for donors, event guests, volunteers, sponsor and so on.
Auction statistics
You can set goals for auctions, track the results for each auction and create reports.
Online auctions
it is simple to set up feature-rich online auctions with hundreds of items. The app includes many of the features found on websites like eBay, including a "buy it now" feature, automatic outbid emails, individual timers on items, and featured items lists. Many forms of payments can be accepted including credit cards, charge cards, and cash. The software uses 128-bit encryption for all password-protected areas.

Key Features of Raiser's Edge NXT
Raiser's Edge NXT is a cloud-based fundraising and supporter management solution. It helps organizations maintain successful relationships with businesses, donors, suppliers and other entities. The key features of Raiser's Edge NXT include:
Donor management
Raiser's Edge NXT has some very powerful tools for managing your donors and communicating with them. You can store any kind of data relating to donors and how you have interacted with them in the past.
SKY Reporting
This is a comprehensive reporting tool that assesses how well your organization's fundraising efforts are progressing. You can create campaigns and closely monitor the results with customizable dashboards.
Work centres
This features allows your organization to track the participation of employees and volunteers.
Email marketing
Email marketing is an increasingly important aspect of fundraising. Raiser's Edge NXT has excellent email marketing tools that help you make the most of your campaigns.
Social media tools
The app has some useful tools to help you promote your organization on social media.
Donor retention reporting
Keeping donors happy is an essential part of running a successful not-for-profit organization. Raiser's Edge NXT has excellent tools for analyzing donors and keeping them engaged with your cause.
Pledge and recurring gifts management
Many donors prefer to signup for a monthly donation instead of being pestered for an occasional donation. The app helps you promote these kinds of donations and manage them.
Payment processing management
Blackbaud, the company that makes Raiser's Edge NXT, provides merchant services that make accepting donations simple.
Using AuctionMaestro in combination with Raiser's Edge NXT gives organizations an incredible amount of power and flexibility. Not only will you be able to organize online auctions easily, you will be able to integrate that data into Raiser's Edge NXT — the most powerful donor management system on the planet. The combination of these two software packages gives organizations complete control over their online auctions.